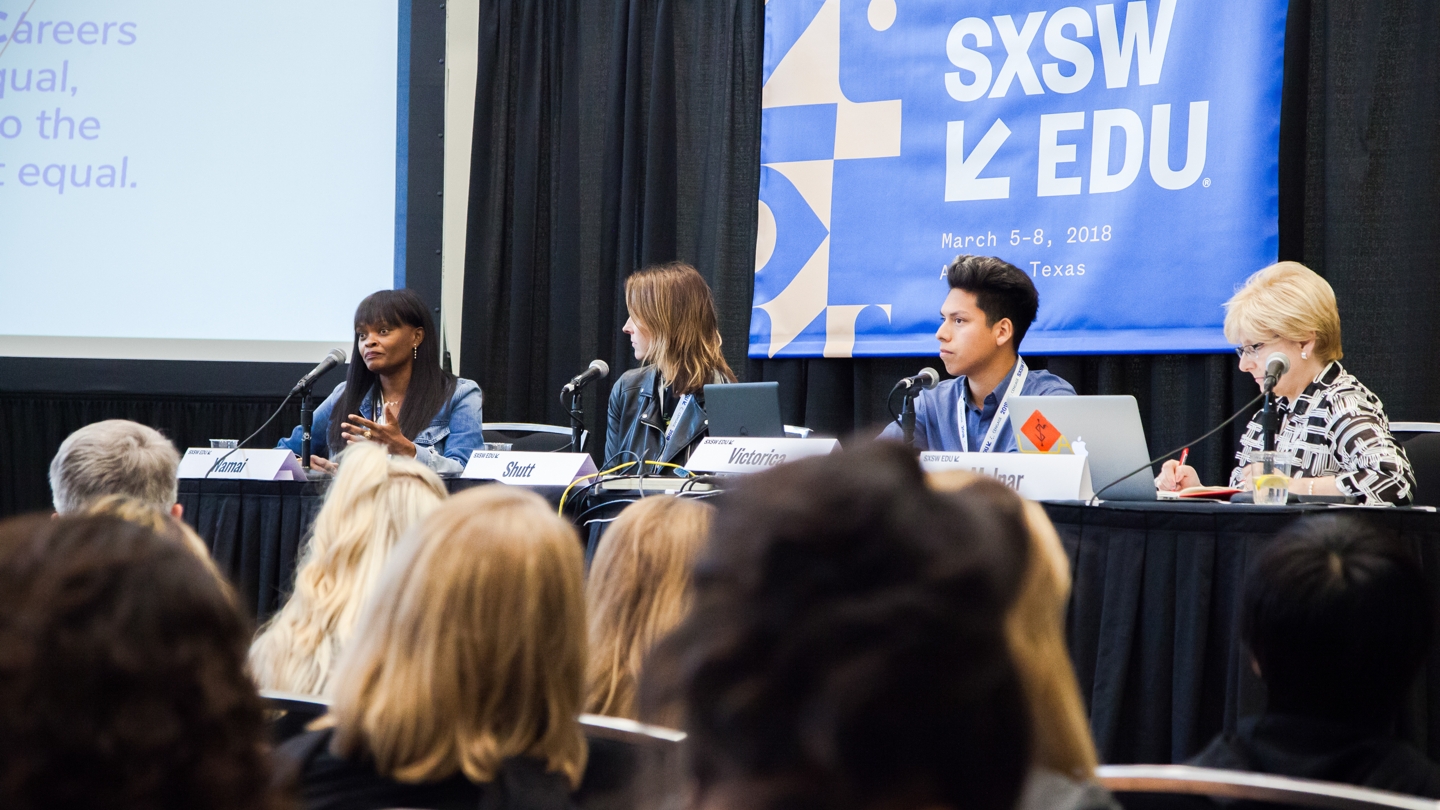 The Association of Texas Professional Educators and SXSW EDU have partnered for a fourth year to provide conference attendees with continuing professional education (CPE) credits, March 4-7, 2019. Explore the lengthy list of sessions that have been accredited and add them to your schedule to take advantage of the professional development.
The ATPE team has thoroughly reviewed the entire SXSW EDU programming schedule and found more than 200 sessions that meet CPE criteria. Sessions and workshops that qualify for CPE credit will be tagged both on the online schedule and in the printed conference materials to help attendees identify eligible sessions. SXSW EDU attendees who attend the CPE-eligible sessions will receive a code that they can use to log in to the ATPE Professional Learning Portal and receive credit. And you don't have to be an ATPE member to use the ATPE system. You can log on as a guest to claim credit for your CPE hours.
Add CPE Sessions to Your Schedule
30 Days of Insanity, or Writing a Novel in 1 Month (Workshop)
A Hidden Dimension: Equitable Science Classrooms (Workshop)
A New Paradigm for Tomorrow's Workforce (Panel)
A Unified Perspective (Featured)
Achieving Equity & Empowering Students (Panel)
Affinity as Identity, for a Real Social Media (Featured)
Alexa, Let's Learn! Talking Devices & Education (Workshop)
Amping Up Access to Culturally Responsive Arts (Panel)
Are You Brave Enough to Let Your Students Fail? (Panel)
Arts & Cultural Centers as Educational Resources (Panel)
Authenticity in the Classroom (Workshop)
Be Your Own Answer: Self Care for Teachers (Campfire)
Belonging, Culture, & School: Student Perspectives (Panel)
Beyond ABCs & 123s: Going Deeper with SEL (Panel)
Beyond Rubrics: Embedded Assessment in Making (Workshop)
Blended & Personalized Learning Toolbox (Workshop)
Blockchain: Hype or Enabler for K-12 Data Privacy (Case Study)
Breaking Barriers with MLB & Scholastic (Case Study)
Building a School on a Foundation of Neuroscience (Panel)
Building Empathy Through Storytelling (Workshop)
Building Equitable Education Ecosystems (Campfire)
Building Inquiry in the Math Classroom (Campfire)
Building Just Systems for Safe Schools (Panel)
Building Student Agency Through the Power of Place (Workshop)
Can Hip Hop Shape How We See the LGBT Community? (Panel)
Care Culture & Safe Spaces for (In)visible Youth (Campfire)
Carmen Sandiego Returns for a New Generation (Panel)
CEO State of Play in Personalized Learning (Panel)
Changing the World One Black Girl Book at a Time (Featured)
Classrooms & Beyond: Empowering Student Voices (Panel)
Closing Diversity Gaps Through Career Learning (Panel)
Coding + Making with Scratch + micro:bit (Workshop)
Collaborate vs Compete: Sustaining via Networks (Panel)
Comedy & Poetry: Tools for Unpacking Mental Health (Workshop)
Compasses & Canvases: Human-Centered Makerspaces (Campfire)
Creating Your Own VR Remix Party (Workshop)
Creating, Debating, & #HipHopEd(ucating) (Special Program)
Creative Apprenticeship: A New Frame for Arts Ed (Campfire)
Culturally Responsive Educators (Workshop)
Decoding Dyslexia: Parents as Partners (Campfire)
Deep Poverty & Deeper Learning (Panel)
Defying Distance: Student Collaboration in VR (Case Study)
Delivering the Invention Education Experience (Workshop)
Design Your Own Next-Generation LMS from Scratch (Workshop)
Dial Down the Stress Without Dumbing Down School (Case Study)
Disrupting Inequality: Innovation for Equity (Panel)
Disrupting Math Education with Punk Ideology (Campfire)
E=MCᒾ: The EdLab Remix (Workshop)
Edcamp: Disrupting PD Around the World (Workshop)
EdTech Lip Sync Battle (Special Program)
Educ-AI-tion Rebooted (Workshop)
Educating Educators About Blockchain (Panel)
Education, Not Deportation (Panel)
Education's Tomorrowland (Policy Forum)
Educolor: The Movement for Collective Liberation (Panel)
Embracing the Language of Disability in Education (Campfire)
Emerging Technology with Mini Makers (Case Study)
Engaging Communities in Rethinking Schools (Workshop)
Engaging Research Partners: Music to Our Ears (Case Study)
Enhance Student Creativity with PBL (Workshop)
Equity in Language Learning (Workshop)
Escape the School: Student-Centered Design Intro (Workshop)
Face to Face: Connecting Community to Classroom (Campfire)
Fact or Fake: Using Games to Teach Ethics (Workshop)
Fact vs Fiction: Why Media Literacy Matters (Panel)
Fair Play: A Video Game Intervention into Bias (Workshop)
FERPA Sherpas: How You Can Lead on Student Privacy (Panel)
From Equity to Anti-Racism in Education (Panel)
From Headline to Homework: Teaching Current Events (Campfire)
From Page to Stage: Bringing Students' Stories to Life (Performance)
From What Kids Know to Who Kids Know (Campfire)
Fulfilling the Promise of Talent (Policy Forum)
FUSION: Revolutionizing the EdReform Movement (Panel)
#GetLit for Culturally Relevant Libraries (Campfire)
Girls & the Maker Movement (Campfire)
Globalizing STEM Classrooms Using Virtual Exchange (Panel)
Going Digital: The Future of the K-12 Library (Panel)
Going Global with the School Librarian of the Year (Panel)
Governors & Education: 2019 & Beyond (Policy Forum)
Great High Schools… That's a School Board Thing (Workshop)
Hacking the STEM Syllabus (Featured)
Hands on Approach to PBL in the Classroom (Workshop)
Helping All Learners Master Rigorous Standards (Panel)
Helping Student Activists Succeed (Campfire)
How Anonymous Reporting Prevents School Violence (Case Study)
How Art Can Help Children Grasp Difficult Subjects (Workshop)
How Chicago Put Summer Melt on Ice (Case Study)
How the Mind Learns: Insights from Psychology & Poker (Featured)
How to Teach Financial Literacy, & Why We Must (Featured)
Hungry for Connection: No One Eats Alone (Workshop)
I See Me: Teaching LGBTQ+ Visibility & Using Film (Panel)
IDEA Public Schools: College For All (Panel)
Ideation CrashUp (Workshop)
Innovating in EdTech Through Human-Centered Design (Workshop)
Innovation Takes a Village: The Power of EdClusters (Panel)
Integrating SEL into Data Systems for Improvement (Case Study)
Integrating Social Justice in Arts Education (Campfire)
Interoperability: Empowering the Future (Panel)
Inventiveness: A Building Block for Resiliency (Panel)
It's Never Too Early: Mental Health in Early Ed (Policy Forum)
Leadership Cage Match: Is There a Clear Winner? (Campfire)
Leading Culturally Responsive Schools (Panel)
Learning Science Truths All Educators Should Know (Panel)
Learning Sciences & EdTech: Uncovering the Facts (Panel)
Let's Get Real: A Primer for Allies (Workshop)
Let's Get Visual: Exploring Our Data (Workshop)
Leveraging Technology to Make Expert Teachers (Workshop)
Liberatory Design Thinking: Design for Justice (Workshop)
Make a Move: Bodies Creating Change (Performance)
Make It Theirs: Designing High School Esport Clubs (Workshop)
Making Culture: A National Study of Ed Makerspaces (Case Study)
Making ECE Integrated Data Dreams a Reality (Panel)
Making Good Trouble: Disrupting Oppression in K-12 (Workshop)
Making Math Add Up for All Learners (Workshop)
Making Our Way to Resilience (Panel)
Making Virtual Reality for Tomorrow's Classrooms (Workshop)
Master Class: Leaders Don't Lead (Workshop)
MBK Forum: Equality v Equity: What's the Difference? (Panel)
Measures that Matter: Rethinking ELA Data Analysis (Case Study)
Media Lit: A Make-or-Break Competency for Teachers (Panel)
Mind-Body Decision Making (Workshop)
Mindfulness & the Student Athlete (Panel)
Moving the Needle on K-12 Accessibility (Workshop)
Museums & Accessibility: Planning a Field Trip (Workshop)
Navigating Public School with My Transgender Child (Campfire)
Partnering with Google for Education: EdTech Panel (Panel)
Pathways to Personalization (Workshop)
Pixar in a Box: The Art of Storytelling (Workshop)
Playful Assessment: Don't Stop the Fun (Workshop)
Progress & Challenges for AI in Education (Panel)
Race, Social Media, & the Role of Schools (Campfire)
Ready to Learn: Easing Transition to Kindergarten (Case Study)
Reconstruction: America After the Civil War (Keynote)
Reimagining School as the Heartbeat of a Community (Panel)
Revolutionizing EdTech with Interoperability (Panel)
Rikers: An Education Through Film (Panel)
Safer Schools Through Design (Policy Forum)
SEL: Construct Understanding with Gaming & Design (Workshop)
SESSION WITHDRAWN: Investing in Ed: Creating a Path for Prosperity (Featured)
Sex Ed in the #MeToo Era (Panel)
So States Missed the Mark on ESSA: What Now? (Panel)
Social Emotional Learning Should Be Like Fluoride (Panel)
Staged Reading: The Kennedy Center's Long Way Down (Performance)
Storytelling & Confronting Institutional Racism (Panel)
Storytelling for Impact (Panel)
Student Data: A Divider or a Unifier in Education? (Panel)
Student Voice: Leading a District Transformation (Case Study)
Student-Driven Inquiry (Workshop)
Students Speak Up Re: Safety & Comfort in School (Panel)
Students' Safety or Privacy? Why Not Both? (Policy Forum)
Supporting SEL with Dynamic Mindfulness (Workshop)
Supporting the Teachers of Tomorrow (Policy Forum)
Taking Back Kindergarten (Panel)
Teach the Nature of Science, Without Starting Over (Workshop)
Teach4Equity: Unpacking a Racial Justice Toolkit (Workshop)
Teacher vs Environment (Space + Organization) (Panel)
Teachers in America: Voices from the Field (Panel)
Teaching in the Era of Fake News (Workshop)
Teaching Literacy Through "Hamilton" (Workshop)
Teaching Social Justice Through Art (Workshop)
Teaching the Tough Stuff (Workshop)
Teen Artists on Identity, Community & Civic Impact (Panel)
The Aerodynamics of Exceptional Schools (Keynote)
The Art of Discipline in the Age of Screens (Panel)
The Future of the K-12 Education Industry (Featured)
The Future of Writing (Panel)
The Immigration Crisis Crosses into the Classroom (Panel)
The Importance of Preserving Languages (Policy Forum)
The Moth in the Classroom: Telling True Stories (Workshop)
The Power of Collaborative Teacher Communities (Panel)
The Real Obstacles to Innovation (Campfire)
The Right Stuff is the Never Give Up Stuff (Featured)
The Three Must-Haves for a PBL-Strong Classroom (Campfire)
Timeless Learning & Zero-Based Thinking (Campfire)
Today's Project? Design Your New Schools (Panel)
Touchable Paintings: Bridging Access & Images (Workshop)
Transforming Learning Spaces with Google (Panel)
Transforming Refugee Education Through EdTech (Panel)
Transmogrifying Inclusion (Campfire)
Trust Is a Must (Panel)
UDL: Designing for Learner Variability (Workshop)
Unified Generation: Youth & Social Inclusion (Panel)
Unlectured: Adventures in Transforming the Lecture (Workshop)
Unlocking Time to Fuel Student-Centered Learning (Panel)
Unmasking Successful Student-Teacher Relationships (Workshop)
Unstick! Everyday Design Thinking Breakthroughs (Workshop)
Using Movement & SEL to Teach Math (Workshop)
Using Technology & AI to Make Schools Safer (Panel)
Validation: Know What Works for Students & Why (Workshop)
(Video)Game Changers for Creative Student Pathways (Panel)
Virtually Real: Using Immersive Tech in Education (Panel)
VR is Visceral: Ready Learner One-to-World (Campfire)
What Can 4,000 Students Teach Us About School? (Case Study)
What Do We Mean by Personalized Learning? (Debate)
What's Driving K-12 Innovation? (Panel)
Where School Safety, Security, & Surveillance Meet (Panel)
Who Is Your SEL Program Not Serving? (Panel)
Why Is the Largest Classroom in the School Empty? (Policy Forum)
Why Music Matters: Shaping the Next Generation (Featured)
Why School Choice Is the Black Choice (Panel)
World of School Is Preparing for the World of Work (Panel)
Worst School Board Ever (& How to Make It Great) (Workshop)
Young People Win: Rethinking Advocacy in a New Era (Featured)
Youth Voice: Sparking Synergy for Inclusive Change (Panel)

SXSW EDU 2018 session, How to Prepare Kids for Jobs that Don't Exist Yet – photo by Debra Reyes.