2019 SXSW EDU Programming Trends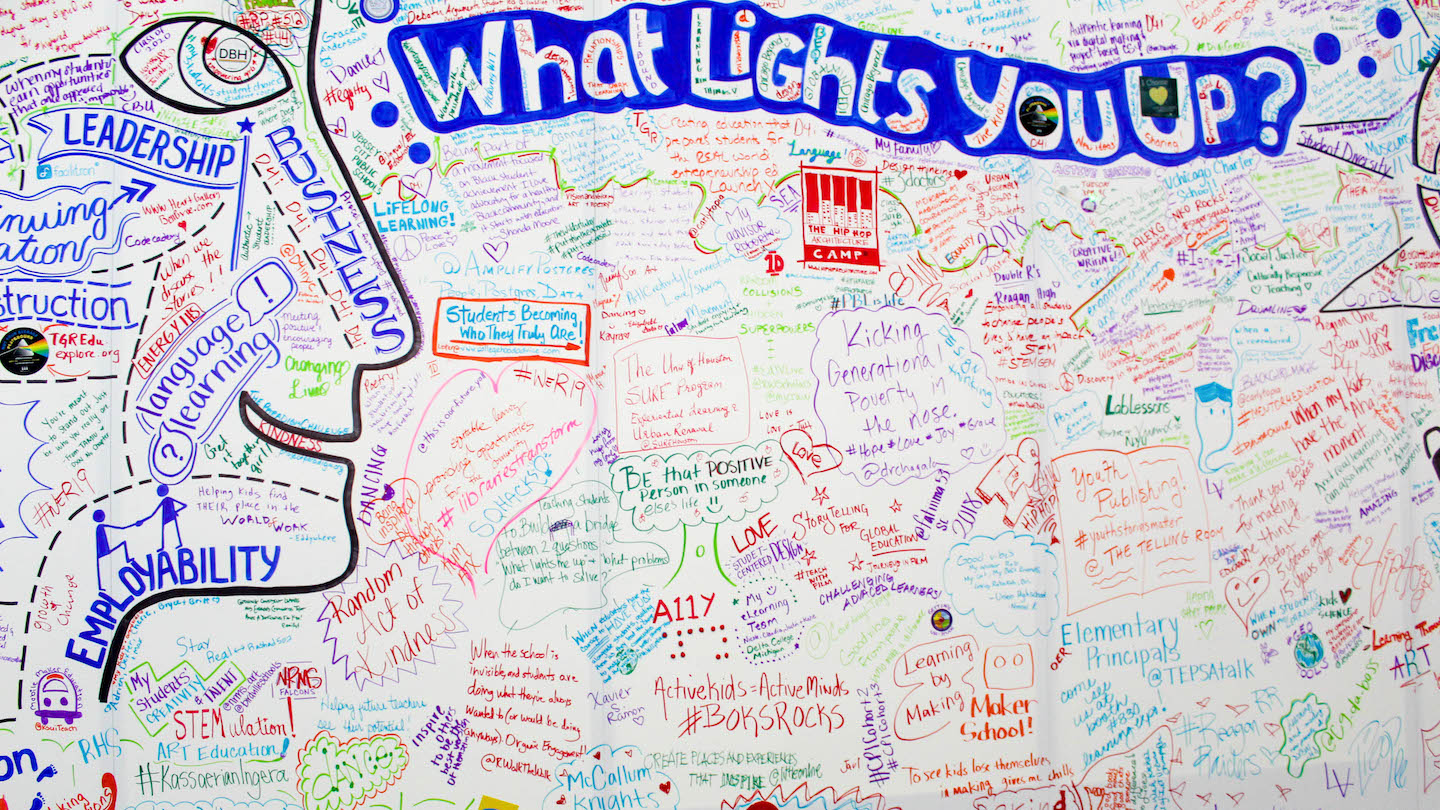 Connecting leaders across the learning lifecycle and around the world, SXSW EDU serves as a melting pot for the latest approaches to education. From more than 1,500 proposals received in PanelPicker to applicants for our startup and design competitions, we review a diverse array of content aligned to some of the biggest trends today. What follows is a curated list of the top 10 trends impacting teaching and learning as exhibited in the programming at SXSW EDU 2019. At a high level, this year's trends represent a human-centered approach to empowering both the educator and student to define their own learning pathway.
AI, XR, & Blockchain: A New Era in EdTech
The advancement of emerging technology is laying the foundation for a new age of learning. With virtual worlds being built to extend the classroom and embedded AI to better track student development, experiential technology provides a new level of immersion. Though still in the early days of direct application in education, blockchain promises to establish a new digital infrastructure to authenticate knowledge acquisition and track a lifetime of learner competencies. Collectively these new applications of tech are shifting its role in the classroom.
Related Sessions:
Related Tracks & Tags: Artificial Intelligence, Blockchain, Emerging Tech, Media Literacy, Online Education, VR
Culturally Responsive Curriculum
The most effective educators have the ability to build inclusive learning environments that act as safe spaces for students, from all backgrounds, to learn and develop. Culturally relevant pedagogy is grounded in a mindset that empowers both educators and learners to navigate the uncomfortable, foster confidence, and develop deeper thinking through open and authentic interactions.
Related Sessions:
Related Tracks & Tags: Civic Engagement, Curriculum Design, Diversity, Equity, K-12 Education, Instruction, Social Justice, Student Voice
Future of Assessment & Accountability
From Common Core to the SAT, the call for accountability is moving away from the drivers of the past two decades as we look to reflect the more holistic attributes of student development and grapple with the adverse impact of high-stakes testing. With data collection on the rise and the push for interoperability to better align reporting, there is an opportunity to capture competency through new and unique methods.
Related Sessions:
Related Tracks & Tags: K-12 Education, Data, Edtech, Higher Education, Policy, Professional Development, Standards & Assessment
Inclusive Practice & Universal Design
Intentional and accessible practices that are designed for individual learners are being widely adopted by schools and educators. While inclusive learning practices have been present for some time, the educational framework and learning science research behind them continues to advance our progress towards effectively supporting students with a wide range of backgrounds and needs.
Related Sessions:
Related Tracks & Tags: Accessibility & Inclusion, Design Thinking, Instruction, Personalized Learning, Special Education, Universal Design
Learning Science in Action
Translating research into actionable, evidence-based practice is essential as educators and institutions implement new learning models. Just as the drive for efficacy research has illuminated the power and pitfalls of technology, so too has learning science research supported best practices for learning. The applications of new research from fields like neuroscience and psychology, paired with the growth of learning analytics, provides a new opportunity to create better-aligned learning pathways for students.
Related Sessions:
Related Tracks & Tags: Instruction, Implementation, Science of Learning, Professional Development
Mental Health & Well-being
As students interact with the increasingly complex world around them, there is a growing need for education communities to be responsive to the mental well-being of their learners. Both in-school and out-of-school factors impact student performance, and there's a growing movement for institutions to play an important role in addressing them. Self-reflection and processing trauma are now key skills required to demonstrate resilience in work.
Related Sessions:
Related Tracks & Tags: Health & Wellness, Mental Health, Leadership, SEL, Student Voice
New Skillset for an Automated Workforce
The advent of automation and artificial intelligence marks a turning point for traditional careers. In the midst of this transition, education is key as human workers seek to develop the skills required to stay competitive in the future of work. With the demand for high-level skills and specialization on the rise, greater emphasis is being placed on creative thinking, emotional intelligence, and continuous development.
Related Sessions:
Related Tracks & Tags: Career, Employability & Talent Development, Experiential Learning, Higher Education
School Safety
Increased threats to safety and security on school and college campuses have prompted an immediate and extensive reaction across the country as students, parents, educators, and lawmakers seek to understand the dangers facing learners. Efforts to ensure and maintain a safe educational environment extend to building an inclusive campus culture where students feel comfortable learning, free from bullying, harm, or violence.
Related Sessions:
Related Tracks & Tags: Cybersecurity & Privacy, Mental Health, Policy, School Safety, Social Justice, Student Voice
Storytelling for Human Connection
The ability to captivate an audience, to share an experience, to spread an idea is what links us to our past and connects us to one another. Storytelling can take many forms and has long since been used as a medium to carry students through the learning lifecycle. In an increasingly digital world, the power of narrative is being tapped to build empathy, foster healthier communication, and encourage personal expression.
Related Sessions:
Related Tracks & Tags: Arts, Media Literacy, SEL, Storytelling, Student Voice
Students as Agents of Change
Around the country and across the globe we are seeing an unprecedented groundswell of students speaking out with the fundamental belief that young people have the power to drive real and meaningful change. From curriculum co-creation to community activism and student-led demonstrations, today's learners are taking action.
Related Sessions:
Related Tracks & Tags: Civic Engagement, Student Agency, Instruction, Social Justice
Photo by Claire Hansen.