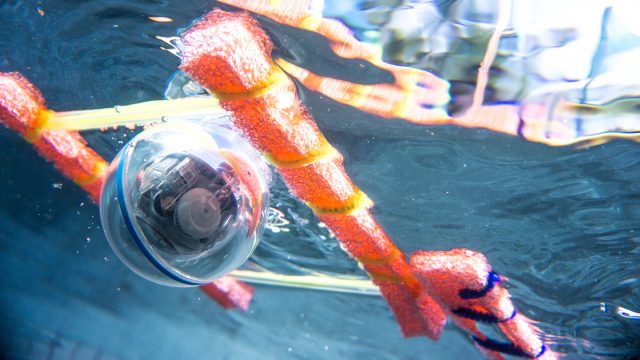 The Playground, March 6-8, is a discovery-based learning environment for attendees to explore best practices, activities and technologies that can improve their teaching and learning. The interactive space provides, presented by Chevron, attendees with new learning strategies and an opportunity to engage in hands on activities that can be leveraged to support students' learning.
In addition to talks and hands on sessions, the Playground features Displays which are organizations set up throughout the space to share their educational approaches and demo their activities. We are excited to introduce the first batch of Displays for the 2018 Playground.
Keep reading to learn more about each of the Displays and what to expect when visiting them in the Playground.
Playground Displays
Comal ISD, Canyon High School
New Braunfels, TX
Participants will be given a set of virtual images that represent operating systems and are tasked with finding cybersecurity vulnerabilities within the images and hardening the system while maintaining critical services. Canyon High School will put students in the position of newly hired IT professionals tasked with managing the network of a small company through interacting with SXSW EDU attendees.
Common Threads
Chicago, IL
Invest in your students' health and wellness while supporting the core content areas! Common Threads will be showing off some of our favorite games, science experiments, and recipes. All resources are available on www.commonbytes.org.
Creative Reaction Lab
St. Lous, MO
Through Creative Reaction Lab's storytelling frameworks for designing inclusive and equitable communities and using their Liberation by Design activity series for learning diversity, inclusion, equality, and equity frameworks attendees will have the chance to engage in interactive activities.
HouseStories Inc
Spring, TX
Learn how to motivate K12 kids to shape a sustainable future! A 6×6 table will be our "charette playground" to design/build a city-type to scale based on different climate-adaptive theme each day: Vertical Garden Highrise, Dutch Floating House, TOD.
IBM Corporate Citizenship
Austin, TX
Come try Teacher Advisor With Watson, a 100% free, cloud-based web app built to help you enhance your planning and instruction. Teacher Advisor leverages IBM Watson technology to recommend targeted resources based on teacher needs, helping k-5 math teachers plan more efficiently and effectively for all students. Receive resource recommendations from a corpus of over 2,000 high-quality lesson plans, activities, teaching strategies, and videos. All available content has been vetted by third-party educators and experts in teacher professional development, so you can trust that what you find in Teacher Advisor has been proven to be effective. This philanthropic initiative from the IBM Foundation, built in collaboration with teachers, education leaders, and providers of best in class content, is freely available to any teacher looking to boost their expertise and help students of all ability levels master grade-level math content. In this display, teachers will be able to learn about Teacher Advisor, see a demo of the tool, register for a free account, and experiment with the tool to see how they can use Teacher Advisor in their ongoing planning and practice.
Innovators' Compass
Armonk, NY, USA
Unleash the creativity in any person at any moment. Try this simple, portable app-or-paper tool for everyday challenges in school, life or work—built by an IDEO veteran. Jam with users from all over. See free, easy-to-use resources and examples.
Keio University Graduate School of Media Design
Yokohama. Kanagawa
As educators and makers, we design new learning experiences that are more connected, engaging and analyzable. We will mainly showcase interactive devices such as Meta Pot, a plant device that collects students' physiological data during group work.
Lyford CISD
Lyford, TX
This student-led playground will captivate your visual, tactile and auditory senses. Experience true, hands-on, creative play that is focused on STEM learning. Apple and Osmo technologies foster key areas that engage participants of all ages.
Never Not Learning
Dallas, TX
Never Not Learning will be offering a Pop Up Makerspace that features low-fi hands-on projects featuring recycled materials. Participants will be provided with materials, tools, multiple project ideas and as much or as little help as they want as they create, invent and tinker. Not only do you get to keep what you make, you'll also walk away with information on how to use recyclable materials to promote STEAM skills and environmental consciousness in your own home or classroom.
Sphero Edu
Boulder, CO
The Sphero Edu display will engage attendees of all ages to learn the foundations of computer science while participating in interactive STEAM activities with Sphero robots.
Texas Cultural Trust
Austin, TX
The Texas Cultural Trust presents Art Can and the Arts and Digital Literacy initiative. ADL: Interact with fine arts and technology through a free TEKS aligned curriculum. ART CAN: Explore your school district on a arts access statewide map.
The AM Project
San Antonio, TX
We reach young people by tapping into their creativity through DJing, Music Production, Graphic Design, Creative Writing, and Urban Art, which equips them with tools that they can use in school and throughout life.
The STEMIE Coalition, Project Paradigm, Smithsonian Lemelson Center
Chapel Hill, NC
Come experience how naturally students engage in K-12 invention and innovation education programs. Learn to use open access lesson plans and activities to inspire and guide invention and innovation in your makerspace, classroom, club, or home.
Tiger Woods Foundation
Anaheim, CA
Engage in STEAM learning with 3 hands-on stations including building your own LED flashlight with 3D-printed materials, exploring the science of light to capture creative photos and interacting with a virtual squid dissection from TGR EDU: Explore.
Join Us at SXSW EDU
Early registrants benefit from discount savings and the best SXSW EDU rates and hotel locations – register to attend and book your hotel before Friday, November 17 to save $150 off the walk-up rate.
SXSW EDU Playground photo provided by Sphero Edu.