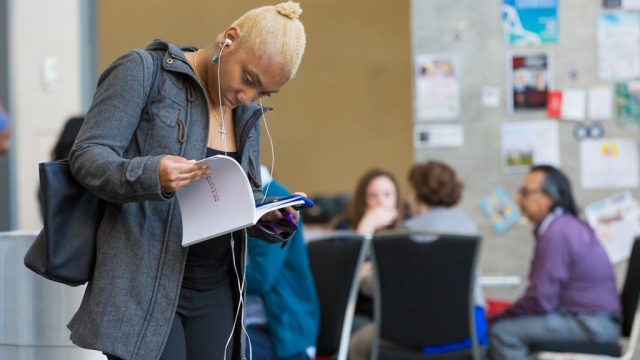 March is fast approaching and it's time to start building those schedules! The 2018 SXSW EDU Schedule is now up and running with all the confirmed keynotes, competitions, speakers, exhibitions, and more. The list will continue to be updated over the next few months as further events are announced.
New to SXSW? Need a refresher? Check out a few helpful tips below on how to navigate the 2018 SXSW EDU Schedule and start planning your adventure!
How to Log In
Regardless of whether or not you have your badge yet, you will need to be logged in to an account to start building your schedule.
To do this, simply click Sign In at the upper right-hand corner of the schedule. This will take you to a page where you can either log in to an existing account or create a new one.
If you have previously created an account for SXSW EDU 2017, your login credentials will remain the same. Keep an eye out in your email inbox for a new activation key that will be used to reactivate your EDU Social account once you have finished registering for SXSW EDU 2018.
If you have forgotten your password or are having trouble accessing your account, just click the link that says, "Need to reset your password?" on the sign-in page and follow the instructions.
How to Register and Link a Badge
If you have not yet registered, start by clicking Register Now in the upper right-hand corner of the home page. You will be taken to a screen where you can then click Buy Now, which will add a SXSW EDU badge to your cart. From there, you can fill out all of the required information and click Continue Checkout, where you'll be prompted to sign in if you haven't done so already, or create an account. Once either of those is finished, you'll be able to finish purchasing your badge.
After your badge has been purchased, you will receive your first confirmation email affirming your registration. Following will be another confirmation email with a link code, which should arrive within a couple of days. That link code is the key to linking your badge to your account.
To link your badge, simply revisit the schedule page and then click Sign In in the upper right-hand corner. Once you are logged in, simply hover over your name to trigger a drop-down menu that will have an option labeled Link a Badge. When clicked, you will be directed to a page with a spot to paste your link code provided to you in the email. Finally, click Link Badge and you're all set! Now, you will be able to add a photo to your badge, manage your account, and most importantly, start building your schedule.
Finding Events and Building Your Personal Schedule
The SXSW EDU Schedule can be personalized to whatever you desire with the wide range of sessions, keynotes, speakers, film screenings and more offered this year.
After signing in, start adding events to your schedule by clicking the star icon on any event page that interests you. Items that have already been marked as favorites will appear with an orange star.
To take a look at your schedule, click the My Favorites link inside the blue box on the schedule page. Included in that box are also links to download the mobile app and visit the SXSW EDU Timeline. By hovering over your name in the top right-hand corner, a drop-down menu will open with options to view your favorites by category, share your schedule with others and more.