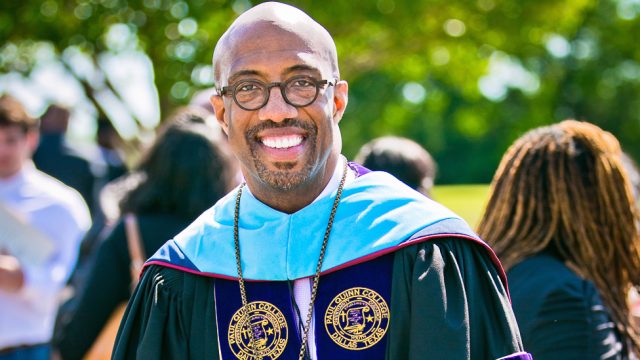 SXSW EDU is honored to announce Michael J. Sorrell, the longest-serving President in the history of Paul Quinn College, as a keynote speaker for the 2018 event.
Under Dr. Sorrell's leadership, Paul Quinn College has been nationally acclaimed for its innovative approach to using higher education to address some of society's most pressing problems. Among PQC's accomplishments during Dr. Sorrell's tenure have been: winning HBCU of the Year; becoming the country's first urban work college; transforming the football field into the "WE over Me Farm"; and regularly recording record budget surpluses. Michael has been named one of America's "Ten Most Innovative College Presidents" by the Washington Monthly and is the only two-time recipient of the "HBCU Male President of the Year" award in history. s
In addition to this news, we are pleased to announce featured sessions, the initial performance lineup, mentors, networking events and more sessions for SXSW EDU 2018. Explore the programming additions below and login to the online schedule to begin building your agenda for March 5-8, 2018.
Don't forget – register to attend by the January 12 discount deadline to save $100 and take advantage of the best selection of downtown Austin hotel rooms.
Featured Speakers
Manoush Zomorodi - Manoush Zomorodi is a podcast host, author, and relentless examiner of the modern human condition. As host of Note to Self, the podcast from WNYC Studios, she unpacks the forces shaping our accelerating world and guides listeners through its challenges.
JP Connolly - An educator, microbiologist, technologist, tinkerer and amateur engineer, JP Connolly, currently serves as the Director of Technology and MS/HS Science teacher at Saint Ann's School in Brooklyn, NY.
Juan Pablo Romero Fuentes - Los Patojos (LP) Founder, Juan Pablo Romero Fuentes, started the school in his parent's house and grew it into a community center and school educating over 300 students. Today he is shaping the future of Guatemala's children by applying a holistic lens to everything LP does, battling brain-drain, and designing LP to be financially self-sustaining so he can open over 100 schools and change Guatemala.
Initial Performances
The SXSW EDU week features a number of performances, from theatrical groups, literacy development programs, music groups and more, that offer attendees the opportunity to experience and reflect on the value of performing arts as vehicle for deeper learning.
Arts Corps + Catalyst Arts - An infusion of theater, poetry, and music; walking you through an experience that explores the identity of young people of color growing up in America. This performance will take you on an artistic ride that is reflective of the journey and truths of the youth today. Following the performance will be an intergenerational and interactive exploration of how art, media, and technology can be used to create change in the world.
Paramount Story Wranglers + Austin Theatre Alliance - The Paramount Story Wranglers, part of the Paramount Theatre's Education & Outreach Department, are an ensemble of teaching artists and professional performers that adapt stories written by local 3rd graders into a sketch comedy, musical, variety show. See how the Paramount Story Wranglers take those original narratives from page to stage in a performance of a few of our favorite stories. Afterwards, join us in a hands-on workshop to experience a new and engaging approach to writing instruction that ignites creativity, boosts writing skills and increases self-efficacy in students.
Mentors
The mentor program at SXSW EDU facilitates purpose-driven one-on-one connections between experienced professionals and solution-seeking attendees.
Eric Klein (Ashford University): Mentor
Amira Pollock (The University of Texas at Austin): Mentor
Leah Merrifield (Washington University): Mentor
Dupé Aleru (SCALE High Program): Mentor
Andrew Frishman (Big Picture Learning): Mentor
Carmen Strigel (RTI International): Mentor
Lyndsay Duthie (University of Hertfordshire): Mentor
Katie Alaniz (Houston Baptist University): Mentor
Melinda Schermerhorn (Round Rock ISD): Mentor
Catherine Pearlman (Brandman University): Mentor
Mary Iannone (Breakthrough): Mentor
Tamika L Lett (T. L. Payne Consulting): Mentor
Kevin Kalra (Montessori Preschool at Copperfield): Mentor
Katy Dunlap (Marin School of Environmental Leadership): Mentor
Daniel Luna (Education Project Management Consulting): Mentor
Belinda Neal (TEPSA): Mentor
Felipe Amaral (Semente): Mentor
Dhairya Pujara (Ycenter Learning): Mentor
Casey Agena (Haumana Ventures): Mentor
Shannon Terry (Arlington ISD): Mentor
Carlos Moreno (Big Picture Learning): Mentor
Elizabeth Kleinrock (Citizens of the World Charter School): Mentor
Stephanie Shirley (Prodigy Early Education): Mentor
Arthur Mills (Mills Management Group): Mentor
Steve Shapiro (FineTune): Mentor
Josie Duckett McSpadden (Bill & Melinda Gates Foundation): Mentor
Robb Doub (New Markets Venture Partners): Mentor
Kasandrea Sereno (University of South Florida): Mentor
Cyndi Wiley (Grand View University): Mentor
Theola DeBose (GraySide Media Group): Mentor
Lindsay Lamb (Austin ISD): Mentor
Kevin Jones (Polk State College): Mentor
Jayma Vaughan (Travis High School): Mentor
Sheree Santos (George Lucas Educational Foundation): Mentor
Kate Winckler (Miron Construction): Mentor
Rachel Merrill-Schwaller (Grand View University): Mentor
Vameker Banks (Ask Ms. Meka Consulting): Mentor
Emily Wilson (South Bend Community School Corporation): Mentor
Mitch Goodwin (University of Melbourne): Mentor
Valencia Hall (Houston ISD): Mentor
Asha Aravindakshan (Busca Tu Clase): Mentor
Floridalia Zuniga-Gray (Pflugerville ISD): Mentor
Kim Hassack (Capital Area Regional Day School Program for the Deaf): Mentor
Matt Reamy (Reamy Consulting Group): Mentor
Ellen Deutscher (Empathy2Action): Mentor
Robert Levin (Emerging Star Capital): Mentor
Laura Roye (Dripping Springs ISD): Mentor
Courtney Teague (C7 Enterprises): Mentor
Jeff Knuston (Common Sense Education): Mentor
Benjamin Powers (The Southport School): Mentor
Alissa Cherry (Reel Works): Mentor
Brooke Miller (The University of Texas at Austin): Mentor
Rachel Hamstra (Duke Ellington School for the Arts): Mentor
Melvin Hines (Upswing): Mentor
Jason Martin (STE(A)M Truck): Mentor
Laurence Peters (Johns Hopkins University): Mentor
Kathy Ishizuka (School Library Journal): Mentor
Season Mussey (Kaya Teacher Project): Mentor
Jim Galis (Advanced Imagination): Mentor
Tommaso Lana (Embodied Learning): Mentor
Laura Hayes (EdisonLearning): Mentor
Jon Roepke (Belkin): Mentor
Joanna Smith (AllHere Education): Mentor
Virginia Rhodes (Renegade Learning): Mentor
Networking Events
Special events such as mixers and parties are scattered throughout the SXSW EDU week to encourage attendees to connect, mingle and relax.
Closing Party
Coffee Breaks
Early Bird Social
Happy Hours
Launch Happy Hour & Winner Announcement
Learn by Design Happy Hour & Winner Announcement
Opening Party
Startup Spotlight
More Sessions and Workshops
Newly announced sessions and workshops bring the count to more than 400+ scheduled for SXSW EDU 2018. Whether you are seeking skill development, a new perspective or opportunities to expand your professional network, there's sure to be something at SXSW EDU to support your goals.
Student/Teacher Led Creative Learning for Schools (Panel)
The Big Picture Learning Student Business Showcase (Summit)
Data, Districts, & Schools, Oh My! (Panel)
AI: Learning Game-Changer or Something to Fear? (Talk (Higher Ed))
Can Evidence Even Keep Up with EdTech? (Panel)
Co-designing Better Outcomes for Young Children (Workshop)
Nonprofits and Corporations Partner on Education (Panel)
Disrupting the School-to-Prison Pipeline (Panel)
Free College Comes with a Cost (Panel)
The Movement Towards an Inclusive Austin (Panel)
Be Proud: Visibility of LGBTQ Educators (Future20)
Leave No Child Offline & Leave No Teacher Behind (Future20)
EdTechWomen Meet Up (Meet Up)
Techbridge Girls: "Role Models Matter" Training (Hands On)
Personalized Learning & Competency Education Meet Up (Meet Up)
Excellence Gaps: Where Equity & Excellence Meet (Future20)
LOOP: A Networking Experiment Meet Up (Meet Up)
Bridging the Gap: Piloting Innovation in Education (Summit)
Technology-Friendly Grants for K-12 Classrooms (Workshop)
Dance in Urban Education (Panel)
Genes in Space STEM Challenge (Talk (Learning Expo))
Design 4 Impact: Design Thinking in K-12 Education (Summit)
SXSW EDU 2019 PanelPicker Meet Up (Meet Up)
Mentor Session: Robb Doub (Mentor)
Passion and Purpose for Learning: What is Your Why (Future20)
Beyond the Lesson Plan: Creative SEL Strategies (Hands On)
Disability or Special Needs - Which is Correct? (Campfire)
Making a Case for VR in the Classroom (Future20)
Virtual Voyaging Through California State Parks (Talk (Playground))
SXSW EDU 2018 Keynote speaker, Michael J. Sorrell, Ed.D., President at Paul Quinn College.