Announcing New Featured Session, Partner Programming, & Mentor Lineup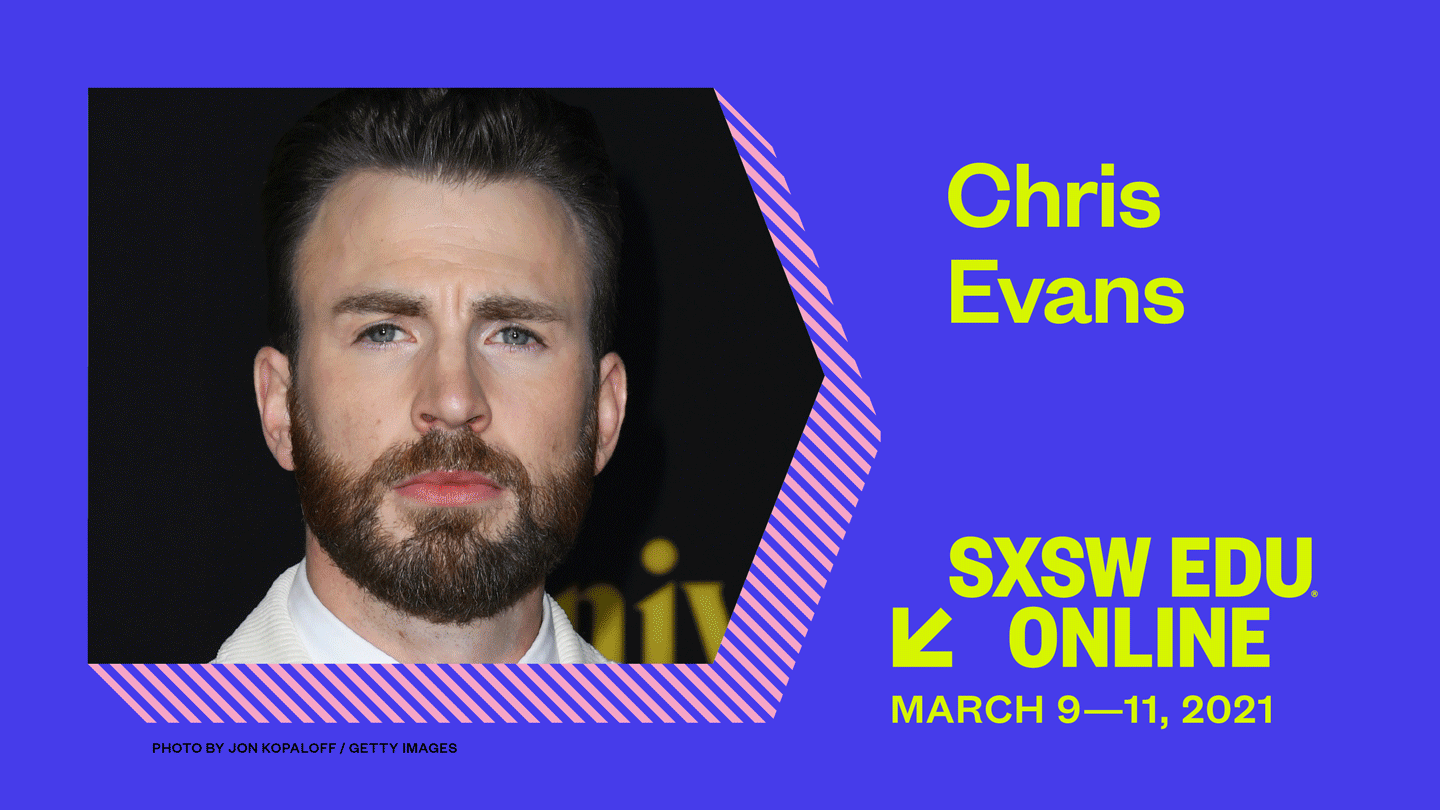 Announcing featured session, Connected in Class: A Starting Point & Close Up with speakers Chris Evans, Joe Kiani, Mark Kassen, and Mia Charity. Additionally, Bellevue University President Dr. Mary Hawkins joins the previously announced featured session How Universities Can Power the Future of Work.
Today's announcement also includes over 20 impactful partner programming sessions and the initial mentor lineup for SXSW EDU Online, an exclusive digital experience March 9-11, 2021.
Plus, explore more from today's announcement including the full film lineup and the initial round of performances.
Featured Sessions
Connected in Class: A Starting Point & Close Up
The imperative for civic engagement and bipartisanship has never been more urgent. A Starting Point (ASP) is a video-based platform seeking to be a truly unbiased resource for information and civic engagement. Working with students and teachers, the non-profit Close Up Foundation shares a similar mission. The two organizations have teamed up to create ASP HOMEROOM, an educational civic engagement portal. This panel discussion is a must-see for anyone interested in the future of civic education.
Chris Evans – Chris Evans is one of Hollywood's most in-demand actors for both big budget and independent features. Chris is internationally renowned for his role of Captain America in the Disney/ Marvel Avengers franchise. Evans recently launched his new civics engagement project called "A Starting Point," alongside partners Mark Kassen and Joe Kiani. The project launched as a website with the goal being to create informed, responsible and empathetic citizens who are empowered to further their understanding of the world of politics. Through ASP, they aim to demystify politics by providing answers to common questions directly from the people who create the policies that affect them.
Joe Kiani – Joe Kiani is a renowned Technology Entrepreneur and Humanitarian, as well as Founder, Chairman, and CEO of Masimo, one of the world's most admired medical technology companies. In 2012, Mr. Kiani founded the Patient Safety Movement Foundation. The inventor of world-changing, noninvasive patient monitoring; and the recipient of multiple awards across the intellectual property, technology and humanitarian sectors; Joe speaks at events around the world, championing the rights of those who are not always empowered to speak for themselves.
Mark Kassen – Mark Kassen is the founder of Like Minded Media Ventures and co-founder of the civic engagement platform A Starting Point. He is also a Golden Globe and Emmy nominated filmmaker, playwright and actor. Mark has a history of cultivating new filmmaking technology, utilizing it to create the Trigger Street Independent film fund with Dana Brunetti. In four years, TSI's films garnered 11 Emmys and 4 Golden Globes.
Mia Charity – Mia Charity currently serves as the Chief Development Officer at the Close Up Foundation. She is responsible for the Foundation's fundraising, government relations, and communication efforts. Her work helps support the Foundation's priority to serve and empower students and teachers from all backgrounds, including those from vulnerable and politically underrepresented communities. Before her current role, she managed Close Up's outreach efforts and worked with teachers and schools across the country to participate in Close Up programs.
How Universities Can Power the Future of Work
As the threat of COVID-19 and a looming recession disrupt the nation's higher education system, some colleges are defying the drop in enrollment by collaborating with employers. With a renewed focus on workplace-ready skills and reaching non-traditional learners, colleges like Paul Quinn College, Southern New Hampshire University, and Bellevue University are playing a more active role in upskilling employees to stay competitive in a post-pandemic economy.
Dr. Mary Hawkins – Dr. Mary Hawkins joined Bellevue University in 1995 and was named the University's fourth president in 2009. Since her arrival, Bellevue University has changed dramatically in enrollment, geographic reach, scope of programs and services, and is recognized today as an innovative partner to companies, organizations and institutions worldwide.
Dr. Michael Sorrell – The longest-serving President in the 148-year history of Paul Quinn College. During his 13 years of leadership, Paul Quinn has become a national movement for its efforts to remake all of higher education to become more responsive to student and societal needs.
Dr. Paul LeBlanc – President of Southern New Hampshire University (SNHU). Since 2003, under Dr. LeBlanc's leadership, SNHU has grown from 2,800 students to over 170,000 learners and is the largest nonprofit provider of online higher education in the country.
Partner Programming
(1-4 speakers / 30 min) Partner programs are formatted as Talk sessions, focused, high-energy presentations centered on breakthroughs and insights, spanning several of the SXSW EDU Online programming tracks.
Community
Moms Stand Up: The Rising Voice of the Black Mother
Presented by EdChoice The incredible power of the Black Mother's voice has grown even stronger over the past two years with the release of the movie "Miss Virginia and the national presence of Sarah Carpenter and the Powerful Parent Network. This panel will discuss how black mothers have navigated the ed reform movement to advocate for educational opportunities and equity for their children. We will discuss their successes and struggles—and the need to continue building stronger, more powerful voices in the movement.

Naomi Shelton (KIPP Foundation)

Safeguarding Youth Mental Health Behind the Screen
Presented by Blue Shield of California's BlueSky Initiative This panel will provide educators with an introduction to the key elements of a mental health first-aid plan. It will address the challenges of working in remote or hybrid learning environments and connecting students with mental health concerns to the appropriate professional support.

Abigail Sanchez (Freshman at Barnard College)
David Bond (Blue Shield of California)
Monica Nepomuceno (California Department of Education)

Tackling the Digital Divide
Presented by AT&T The Digital Divide/Homework Gap surfaces when certain geographies and demographics lack access to any combination of the following: 1) Devices and affordable high-speed network connectivity and/or 2) High-quality online education tools 3) Digital Literacy This session will explore the importance of tackling each of these challenges in a cohesive approach. Speakers from AT&T, Connected Nation and AT&T Accelerator alumni companies will explore solutions to this complex, multifaceted topic. Anne Wintroub (AT&T) Brent Legg (Connected Nation) Heejae Lim (TalkingPoints) Joanna Smith (AllHere)
When Schools Mirror Communities
Presented by The Walton Family Foundation Most K-12 schools have existed in their communities for decades, and the community conforms around the school. But what if instead schools responded to the community's needs? Hear from education entrepreneurs who have opened innovative school options outside of the traditional K-12 system shaped by their communities, how that inclusive and equitable approach is driving better outcomes for students, families, and communities at large.

Keri Rodrigues (National Parents Union)
Khabral Muhammad (The LIFE School)
Toni Frallicciardi (Surf Skate Science)

Emerging Tech
Align-Build-Context: The ABCs of Tech Inclusivity
Presented by Artefact Discover the "ABC"s of tech inclusivity – Align, Build, and Contextualize – as we share an approach to developing inclusive, flexible, and human learning pathways and programs at any organization. Join us to explore strategies and lessons learned creating curriculum, programs, and delivery models for greater access, equity, and inclusion, and identify ways your organization can develop tech-enabled learning experiences that serve every student's unique needs.

Elyse Eidman-Aadahl (National Writing Project, UC-Berkeley)
Felix Chang (Artefact)
Lukas Wenrick (Arizona State University)

The Future of Learning with Ozy Media and HMH
Presented by HMHWe're in a profound education paradigm shift, accelerated by the pandemic. What is the future of learning? The classroom? Of edtech? Join the CEO of OZY Media and the CEO of Houghton Mifflin Harcourt for a candid conversation on the future of education and how can we enable a new digital-first, connected era, where technology can engage students, personalize learning and enable teachers to be the architects of this experience.

Carlos Watson (Ozy Media)
Jack Lynch (HMH)

Equity & Justice
Beyond Representation: Measures to Ensure Justice
Presented by the Chan Zuckerberg InitiativeMeasurement holds promise to lift the veil on disparities in educational outcomes. But what exactly are we measuring, and how are we ensuring these metrics don't unintentionally exacerbate existing inequities? Where are we not measuring outcomes that matter, and where are we measuring outputs that don't reflect the outcomes we're really hoping to achieve? Are we relying on proxies that are themselves biased?

Ezekiel Dixon-Román (University of Pennsylvania)
Gaby López (Chan Zuckerberg Initiative)
Jennifer Randall (University of Massachusetts, College of Education)

Cost to Value: Higher Education's Next Big Shift?
Presented by the Bill & Melinda Gates FoundationRising costs and mounting student debt are leading more Americans to ask the question "What is college worth?" To help answer that question, the Postsecondary Value Commission, which is charged with recommending a definition and measures for gauging the value of postsecondary programs. Commission leaders will preview the group's final report and engage in a lively conversation about how to measure and improve value and the impact of COVID-19 on perceptions of value in higher education.

Mamie Voight (Institute for Higher Education Policy)
Michelle Asha Cooper (Institute for Higher Education Policy)
Mildred Garcia (American Association of State Colleges and Universities (AASCU))
Travis Reindl (Bill & Melinda Gates Foundation)

COVID Lessons: A New Era in Education
Presented by HMHOne year ago, schools closed their buildings. Now, as we gather virtually in a landscape forever altered by the pandemic, we are seeing the challenges—and the bright spots—of the last year more clearly. From an accelerated adoption of edtech to exposure of deep inequities across the education system, we will examine what we've learned and explore where we go from here as we prioritize innovative solutions and systems that connect students, teachers and communities to create meaningful outcomes.

Henry Hipps (Bill & Melinda Gates Foundation)
Lisa Herring (Atlanta Public Schools)
Matthew Mugo Fields (HMH)

Education Equity: Reengaging Students post Covid
Presented by Communities in Schools Black, Brown, and Indigenous students and students living in poverty are experiencing a differentiated set of impacts this school year because of historic and new inequities in our communities and the social, economic, and educational disruption of the COVID-19 pandemic. This moment calls for schools, non-profits, businesses, governments, and communities to embrace a conversation around shifting the educational paradigm toward student re-engagement and equitable learning environments.

David Osher (American Institutes for Research)
Heather Clawson (Communities In Schools)
Rey Saldaña (Communities In Schools)
Whitney Cole (Student at University of Nevada-Las Vegas)

Fostering Antiracist Culture: Start at the Top
Presented by the Chan Zuckerberg Initiative Many school leaders believe addressing racial inequities is an urgent matter, but few feel equipped to take action. How can leaders at the top, particularly superintendents and principals, become unstuck to foster more equitable learning environments? Our expert panel will discuss actionable steps for leaders to create these environments and develop programs—including antiracist curricula, professional development, and community involvement—so the responsibility doesn't mainly rely on teachers.

Evan Gutierrez (Gradient Learning)
Hiewet Senghor (Black Teacher Collaborative)

Reclaiming 'Equity' As Racial Justice
Presented by the Bill & Melinda Gates Foundation Equity has "crossed over" as a term, reaching the same level of popularity as "diversity" and "inclusivity." In higher education, equity is a code word used to demonstrate "wokeness", often when applying for grants that mention equity as a priority. The word is a symbol, used without clarity about its meaning. Professor Estela Mara Bensimon will discuss the true meaning of equity as a strategy of anti-racism, the obstacles to equity-mindedness, and how to overcome them.

Estela Bensimon (University of Southern California)

Policy & Civil Discourse
Education Policy and Equity in a Pandemic World
Presented by the Chan Zuckerberg Initiative A year since the pandemic first caused a major disruption to American schools, there are significant opportunities to expand how student success is defined, advance how technology is used to support student learning and shift how schools prioritize racial equity and the social, emotional, and mental wellness of students and teachers.

Dakarai Aarons (Chan Zuckerberg Initiative)
Denise Forte (The Education Trust)
Jacob Allen (pilotEd Schools)

Offline & Left Behind: The Lost Generation
Presented by Western Governors UniversityA year after the onset of the COVID-19 pandemic, our internet infrastructure remains ragged and uneven, leaving 21 million Americans, and an estimated one out of five schoolchildren disconnected. The internet is no longer a luxury: it is the pathway to the world of learning and opportunity in the 21st century, and particularly so in the COVID-19 era. The digital divide compounds structural disadvantages of race and poverty, and is the critical educational issue of our time.

Jeb Bush (ExcelinEd)
Scott Pulsipher (Western Governors University)

Skills-based Hiring: Paradigm Shift for Educators
Presented by American Student Assistance As employers are moving from a pedigree-based to a skills-based hiring approach, educators are stepping up to instill students with the new foundational skills needed to succeed including life skills, which are the largest barrier to students' life readiness after high school. Learn how the paradigm shift to skill-based hiring is changing the landscape, how youths are demonstrating skills, and how policymakers & education leaders can foster skill development to ensure equal opportunity for all.

Carlos Moreno (Big Picture Learning)
Grace Suh (IBM Corporation)
Jake Hirsch-Allen (LinkedIn)
Pat Henry Leonard (Credly)

Practice & Pedagogy
Generation Unified: Guide to an Inclusive Mindset
Presented by Special Olympics An inclusive mindset has the predisposition to empathize with, understand, welcome and accord dignity to those who are socially excluded. Individuals with intellectual disabilities deserve to be included with their peers in accessible and equitable leadership opportunities at school and in the community. Learn how to ensure positive representation, evolution, and adaptation occurs in your classroom, in-person or virtually, without abandoning the core values and needs of all students.

Jackson Escamilla (Special Olympics North America)
Kaleigh Vogan (Special Olympics North America)
Loretta Claiborne (Special Olympics International)
Tajha Ilerant (Special Olympics North America)

Standing Out in Today's College Admissions Process
Presented by Adobe Turns out getting into college isn't only about SAT scores – and increasingly they're optional. New research shows creative skills among the top 3 deciding factors to get in – but how do applicants best showcase them?Adobe's Tacy Trowbridge and a master high school educator discuss how to prepare students for future success by equipping them with creative skills and the ability to effectively demonstrate them in college admissions and beyond.

Tacy Trowbridge (Adobe)
Zooming in on CS When You're All Zoom'd Out
Presented by Infosys Foundation USA We've seen a seismic shift in education over the past 12 months with K-12 teachers going to great lengths to reach their students. Despite their best attempts, the struggle is real during these truly unprecedented times. Hosted by the Infosys Foundation USA, this session will explore strategies to support teachers in various stages of their computer science and maker education teaching journeys - from effective remote & hybrid delivery to teaching with limited resources to basic engagement.

Kate Maloney (Infosys Foundation USA)

Work Reimagined
Accepting that a Degree is Not a Panacea
Presented by American Student Assistance Through personalized learning experiences and discovery & exploration activities in middle and high school, students can find a path that works--even if the path doesn't include a degree. Join panelists as they discuss alternative education pathways including stacking courses for a credential, CTE pathways, gap years, and other non-degreed certifications or bootcamps. Discuss why these options deserve a seat at the table when youths are planning their career paths in pursuit of their passions.

Anant Agarwal (edX)
Annabel Cellini (American Student Assistance)
Ryan Craig (Student Achievement Partners)
Michael Horn (Forbes)

Mentorship: Pathways to Increase Black Tech Talent
Presented by 2U To increase diversity and equity in tech—enabling more innovation and greater inclusivity—we need to provide Black and other underrepresented students with more access to industry-relevant education and 1:1 mentorships with tech professionals. Without it, we risk perpetuating the current issues in the tech industry. Join this session to learn why we must make the change now and how HBCUs and companies are coming together to train, mentor, and recruit the next generation of Black tech talent.

David Sutphen (2U, Inc.)
Javaune Adams-Gaston (Norfolk State University)
Kabi Gishuru (Netflix)

Multiple Future Paths: Expanding Youth Awareness
Presented by American Student Assistance Future planning for many young people centers on guesswork and very little understanding of their own skills and possible paths. By coupling a wider net of professional relationships with more expansive and digital opportunities for career exploration, youths are more likely to choose a path that better aligns with what they like, what they are good at, and what the world needs. Join panelists as they discuss creating equitable access to mentors, career exploration, and educational pathways.

David Shapiro (MENTOR: The National Mentoring Partnership)
Dr. Shaun Mcalmont (K12, Inc.)
Julia Freeland Fisher (Clayton Christensen Institute)
Sabari Raja (Nepris Inc)

Upskilling for the Future
Presented by The Charles Koch Foundation
Just a third of college students believe they will graduate with the skills they need to be successful. Paired with a national crisis swelling unemployment, we are faced with the reality that people need to upskill for the economy of tomorrow. How can we reimagine education by embracing skill-based, affordable, student-driven learning opportunities that lead to high-demand jobs? This panel of disruptors will share how they are thinking differently about the intersection of education and work.

Josh Jarret (SkillUp Coalition)
Nitzan Pelman (Climb Hire)
Ryan Stowers (Charles Koch Foundation)

Mentors
Mentorship is one of the key networking components for SXSW EDU Online. Attendees seeking solutions and advice can sign up to participate in a one-on-one session with a mentor. This year, mentors bring expertise in areas spanning all eight programming tracks. Sign up to meet with a mentor when the RSVP platform launches in early March.
Aaron Bradley, University of Cincinnati (Practice & Pedagogy) Alex Bell, Portland Education (Community) Alexander Russo, The Grade (Media & Public Engagement) Allison Upshaw, Planning Diversity, Inc. (Equity & Justice) Andrea Bazemore, The Black Apple (Work Reimagined) April Clark, Reach and Teach (Work Reimagined) Ashling Findlay-Carroll, Performing Arts Studio Scotland, Edinburgh College (Practice & Pedagogy) Barbara Bray, Rethinking Learning (Community) Brian Jernigan, Cherry Creek Schools (Work Reimagined) Briana Castaño, Teach For America (Practice & Pedagogy) Chris Fancher, Chris Fancher Consultiing, LLC (Practice & Pedagogy) Danny Scuderi, Marin Horizon School (Equity & Justice) Dave Poirier, District School Board of Niagara (Equity & Justice) David Dada, City of Birmingham Mayor's Office - Division of Youth Services (Community) Dion Klein, The WISE Academy Pty Ltd (practice-pedagogy) Donna Teuber, Iterations Learning (Work Reimagined) Dustin Ramsdell, Noodle (Emerging Tech) Elis Estrada, PBS NewsHour Student Reporting Labs (Media & Public Engagement) Liz Kleinrock, Teach and Transform (Practice & Pedagogy) Gigi Johnson, UCLA Herb Alpert School of Music / Maremel Institute (Work Reimagined) Ian Kelleher, The Center for Transformative Teaching and Learning at St. Andrew's Episcopal School (Practice & Pedagogy) James Rees, Provo School District (Community) Jamie Kasper, Education Commission of the States (Practice & Pedagogy) Jasmine Hernandez, Workforce Solutions (Work Reimagined) Jay Veal, INC Education and Black Tutors of Social Media (Community) Jeffrey Abramowitz, JEVS Human Services (Equity & Justice) Jen Tutak, Deloitte Consulting (Community) Jessica Falkenthal, Jessica Falkenthal & Associates (Community) Jessica Mara, Lenovo (Community) Joachim Horn, SAM Labs (Emerging Tech) John Noble, SHP (Community) Jones Madruga, PSD Educação (Emerging Tech) Joquetta Johnson, Baltimore County Public Schools (Equity & Justice) Josie McSpadden, Bill & Melinda Gates Foundation (Media & Public Engagement) Julie Willcott, zSpace (Emerging Tech) Justin Graves, HESONWHEELS (Community) Justin Wedell, NewSchools Venture Fund (Emerging Tech) Kanesha Baynard, Kanesha Baynard Coaching, LLC (Work Reimagined) Karen Livingston, Cornell University (Practice & Pedagogy) Kate Bauer-Jones, Education Analytics, Inc (Community) Kathleen McClaskey, Empower the Learner (Practice & Pedagogy) Kellie Lauth, mindSpark Learning (Work Reimagined) Kimberly Galloway, ESC Region 13 (Practice & Pedagogy) Krista Barbour, Bishop Seabury Academy (Practice & Pedagogy) Kwaku Aning, San Diego Jewish Academy (Emerging Tech) Lauren Mason Carris, Find Your Grind (Emerging Tech) Lena Darnay, CIESC/Keep Indiana Learning (Practice & Pedagogy) Mary Dell'Erba, Arts Education Partnership at the Education Commission of the States (Policy & Civil Discourse) Mohamed Abdel-Kader, The Aspen Institute (Global Impact) Moran Tsur, Wix (Emerging Tech) Paige Oliverio, Urban Patchwork (Work Reimagined) Raechel French, DLR Group / University of Melbourne (Practice & Pedagogy) Rebecca Watts, Western Governors University (Practice & Pedagogy) Rick Brennan, Histrionix Learning (Work Reimagined) Roxanne Desforges, Pure & Applied (Work Reimagined) Sandy Baba, Pacific Oaks College (Work Reimagined) Sarah Nguyen, Australian Tradeand Investment Commission (Global Impact) Sarah Steiger, Chicago Public Schools (Practice & Pedagogy) Shannon Dowling, Ayers Saint Gross (Practice & Pedagogy) Shatera Weaver, Metropolitan Expeditionary Learning School (NYCDOE) (Practice & Pedagogy) Shirley Giroux, School District 57 / EQUM Education Consulting / University of Northern BC (Practice & Pedagogy) Shirley Prieto, Emergency Educator Support Services (Policy & Civil Discourse) Steve Smith, Cambridge Public Schools (Practice & Pedagogy) Tasha-ree Lee, Beacon College Prep (Equity & Justice) Terrell Morton, University of Missouri - Columbia (Practice & Pedagogy) Thom Gibson, Headwaters School (Emerging Tech) Todd Marshall, Ashland University (Emerging Tech) Toni Schlieper, NuMoola (Equity & Justice) Tonya Drake, Western Governors University (Community) Tricia Edwards, Smithsonian Affiliations (Media & Public Engagement) Vanessa Vakharia, The Math Guru (Media & Public Engagement)
Join Us for SXSW EDU Online
Secure your pass for SXSW EDU Online, March 9-11, 2021 at the current rate of $139 before passes sell out. SXSW EDU Online also offers group and student discounts.
Sign up for the SXSW EDU email update for all the latest news and be sure to follow us on Twitter, Facebook, LinkedIn and Instagram for the latest news and updates.
Featured Speaker Chris Evans photo by Jon Kopaloff / Getty Images. All other speaker photos courtesy of the speaker.