Explore the Many Ways to Network at SXSW EDU 2023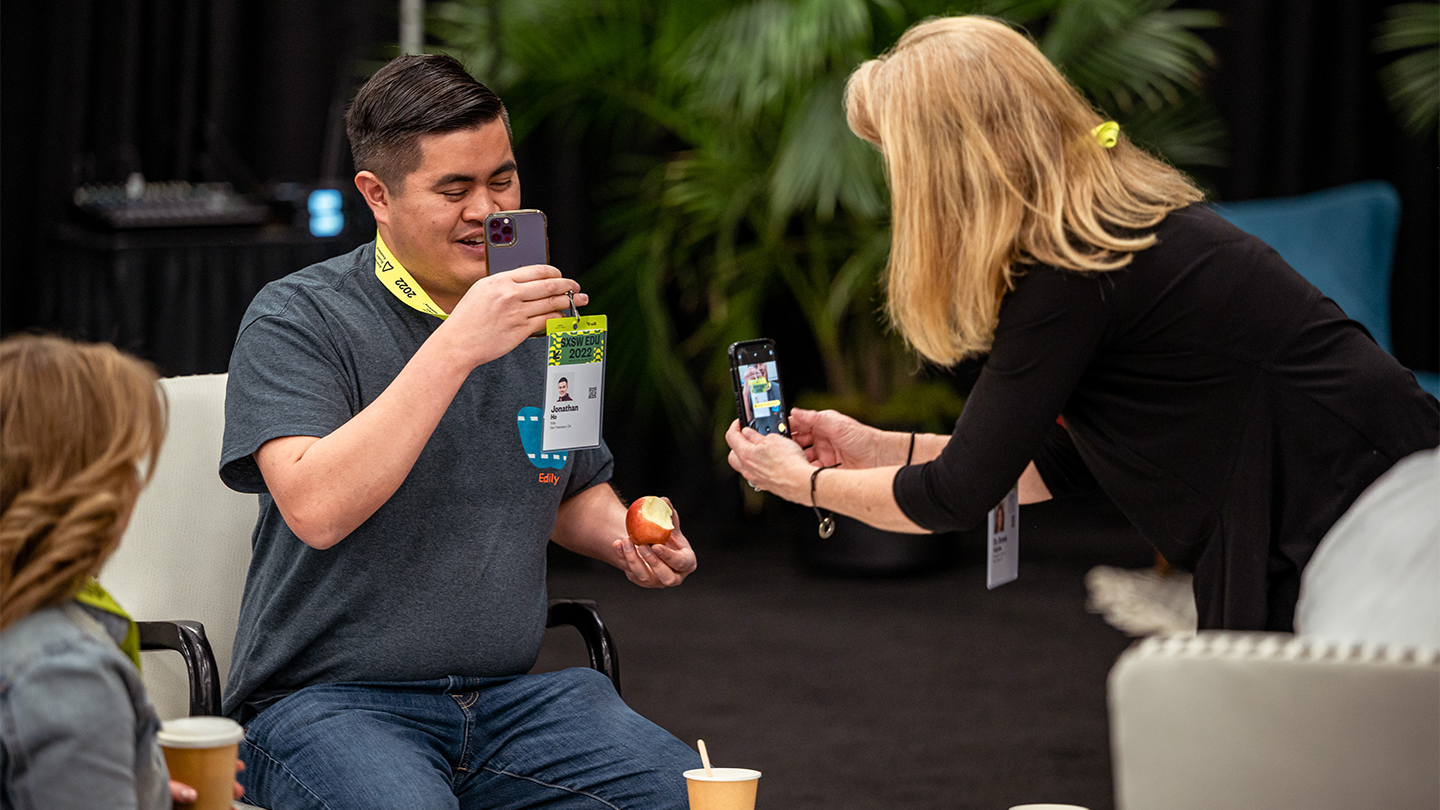 There is so much to learn from the sessions, performances, and films at SXSW EDU, but don't miss out on the opportunities to learn from your peers.
For many attendees, forming and fostering connections is a principal goal. The networks we establish within our industry, workplace, and personal lives can have a profound impact, and can last long after the event has ended. The 2023 program consists of various formal and informal networking opportunities where you can form these relationships.
Find the networking opportunities that work best to help you reach your networking goals:
Online Networking
EDU Social
Start connecting with attendees today, and keep in touch after the event with EDU Social. Using EDU Social, the world of SXSW EDU is at your fingertips. Once you have signed in and linked your badge, you can search for and start chatting with other attendees, and book or modify your hotel reservations.
SXSW EDU GO
Gain direct access to the registrant directory, and connect with and message other attendees right in your pocket with the SXSW EDU GO app for iOS and Android. Adjust your personal setting and get networking recommendations to help personalize your experience at SXSW EDU.
Physical Events
Hikes
Explore Austin's famous Greenbelt on a 1.5-mile hike on Tuesday, March 7, and Wednesday, March 8, with a group guided by Explore Austin.
Walking Tours
Learn about Austin's rich history and experience the city like a local with group walking tours of downtown Austin, Austin's music culture, and art on the East side.
Social Events
Coffee & Snack Breaks
Swing by the Expo and visit exhibitor booths with something to help keep your energy up during morning coffee breaks and afternoon snack breaks.
Pop-Up Dinners
Make new connections while enjoying a bite to eat at pop-up dinners across Austin's downtown area. Dinner reservations have already been made, so all you need to worry about is showing up hungry. Please note that attendees are responsible for their own dinner expenses.
Parties
Early Bird Social
If you get to Austin early, pick up your badge and head over to the Hilton Austin Downtown right next door for the Early Bird Social on Sunday evening, March 5, where you can make sure connections before programming starts Monday.
SXSW EDU Opening Party
Celebrate the first day of programming with your fellow conference attendees at the opening party Monday evening.
Launch Competition Spotlight
Join us in celebrating the finalists and runners up of the 2023 Launch Startup Competition and hear which teams have been awarded Tuesday evening at the Launch Startup Spotlight, presented by Walton Family Foundation.
Student Startup Ice Cream Social
Swing by the Next Stage to celebrate the 2023 Student Startup Competition finalists and winners with ice cream at the Student Startup Ice Cream Social, presented by Career Tools, Wednesday afternoon immediately following the winner announcement during the live competition.
SXSW EDU Closing Party
Close out the exciting week by toasting to new and old friends at Thursday afternoon's closing party.
Mentorship
One-on-One Sessions
Gain feedback from experienced professionals when you meet in purpose-driven sessions with mentors in a one-on-one conversation.
Roundtable Discussions
Access mentorship in small group discussions led by mentors through roundtable discussions.
Meet Ups
Connect with people who share your passions and interests at one of the many exciting meet ups.
Building Local Computer Science Teacher Community
Building Youthforce in Middle School
Calling All EDU Content Creators!
Circling Around Circles of Reflection Meet Up
Co-Conspirators for Equitable Education
Collective Dreams for Liberation: Educator Meet Up
CompetencyWorks PCBE Meet Up
CourseGateway: The Path to Equitable Education
Data Science for Everyone? How to Move the Needle
Ed3 Impact Collective
EdTech, Power Skills & the Future of Work
Education Leaders of Color Meet Up
Esports & Education: Changing the Learning Game
Evidence - A Key Ingredient for EdTech Decisions
Fueling the Future: Inspiring the Next Generation
Gamified Curricula for the Future
Global Civics Meet Up
Global Connections Meet Up
Global EdTech Feast!
Kitchen Convos: Creating Trans Inclusive Spaces
Let's Talk About Mental Health in Schools
Librarians as VIPs: Scaling Media Literacy
Meet and Greet with the Stand Together Team
PanelPicker & More: Engaging at SXSW EDU 2024 Meet Up
Prioritizing Anti-Racism in Education Research
Reimagining the Creative Workforce
Reimagining the Role of Philanthropy in Education
Science Sandbox: Informal Science Education Meetup
Sips & Strums
StorySistas Envisioning the Future of EDU Meet Up
The Capitol-Classroom Connection
The Village Meet Up: Advocates for Neurodiversity
Unlock the Power of Storytelling with Teens
Validating Postsecondary Pathways: Quality Metrics

Join Your Community in March
Register to attend in Austin or experience SXSW EDU Online. Celebrate education through compelling sessions, networking opportunities, and so much more at SXSW EDU from March 6-9, 2023.
Be the first to know of any information leading up to the event through Twitter, LinkedIn, Instagram, Facebook, TikTok and our newsletter.
Photo provided by Jon Currie