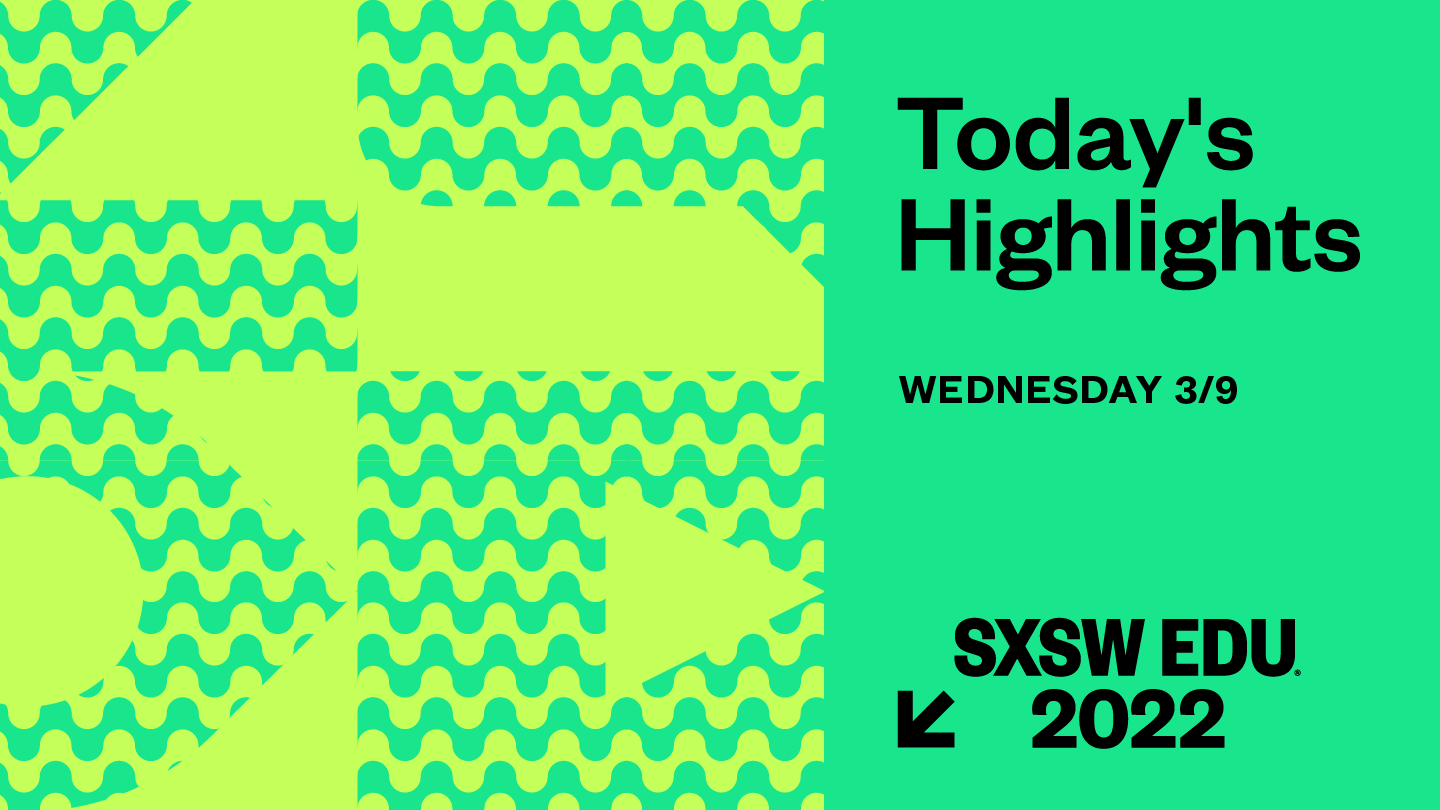 Day three of SXSW EDU is about to start and more learning experiences await. We're ready to continue building on the momentum from the past couple of days. Let's make sure to make the last full day count!
Kickstart your morning with today's keynote session, Reimagining Education with Students at the Center, where Dana Brown and Miguel Cardona will discuss how we can create education systems that meet the needs of today's students. You won't want to miss it!
Next up, it's the final day of the Expo! Be sure to stop by Exhibit Hall 4-5 in the Austin Convention Center to check out some interactive, fun, and creative approaches to learning!
Here are some other things happening today that you might be interested in…
Today's Highlights
Reimagining Education with Students at the Center
9:30am–10:30am | ACC, Ballroom D
See It, Be It: Inspire Kids to Find Their Future
10:30am–11:30am | ACC, Meet Up Pavilion
Open Exhibition: d.school Future(s) Museum
10:30am–12:30pm | Hilton, Room 602
The Fight for the Future of Academic Freedom
11:00am–12:00pm | ACC, Room 9AB
Launch Competition
11:00am–12:30pm | ACC, Room 16AB
Searching for Meaning: The Future of EdTech Talent
11:00am–12:30pm | Hilton, Salon C
Talking Student Mental Health with DMC from RUN DMC
12:30pm–1:30pm | ACC, Ballroom EF
Reshaping School Leadership for the Future
12:30pm–1:30pm | ACC, Room 12AB
Drop the Facade: Building Healthy Relationships
1:00pm–2:30pm | Hilton, Salon E
Film Screening: Into the Circle
1:30pm–2:30pm | ACC, SXSW Film Theater
Educator PD: Key to Increasing Student Achievement
2:00pm–3:00pm | Hilton, Salon C
Momentum & Movement: Black Women in Film
3:30pm–4:30pm | ACC, Ballroom EF
Student Startup Competition
3:30pm–5:00pm | ACC, Room 16AB
Redefining Digital Literacy: Algorithms and You
5:00pm–6:00pm | Hilton, Salon G
Fueled & Financed: Philanthropy Propels Education
5:00pm–6:00pm | Hilton, Salon C
Film Screening: Pulau Plastik (Plastic Island)
7:00pm-9:10pm | SXSW Film Theater
Launch Competition Party
7:30pm-11:00pm | Lucille