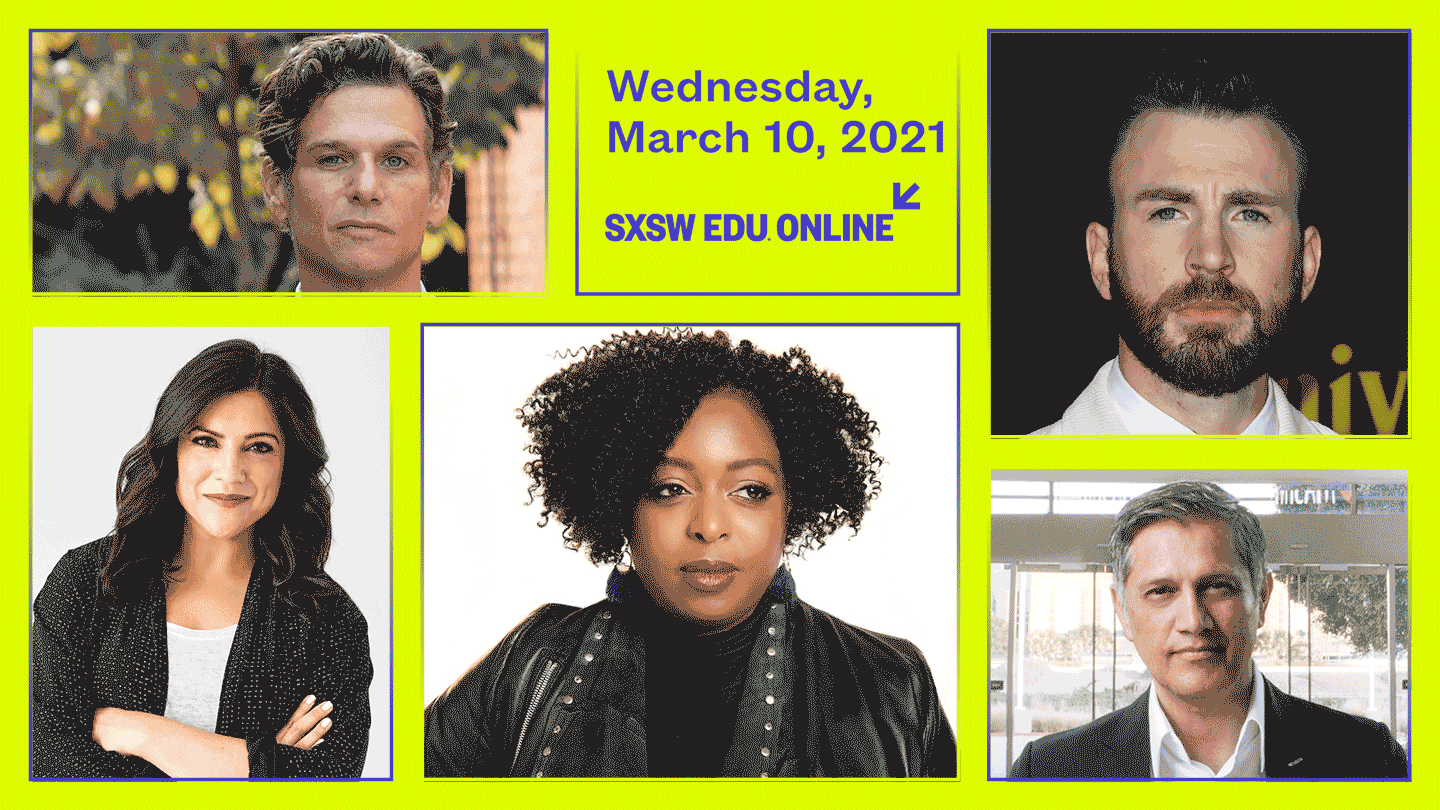 It's day two of SXSW EDU Online, Wednesday, March 10 and we're ready to continue building on the momentum that was brought forth yesterday.
This morning, don't miss keynote session Kimberly Bryant and Reshma Saujani in Conversation as they discuss their powerful work in closing the gender gap in tech through empowerment, community, equity, and inclusion. The keynote will begin streaming promptly at 9:30am CT.
A Few Highlights for Today
Check out the virtual Exhibition and chat with exhibitors daily from 10:00am – 5:00pm CT.
Mentors will be available throughout the day to share their insights. Check the schedule for availability and book a meeting with a mentor.
At 10:30am CT, Talk session Can We Design Bias Out of EdTech? discusses how the application of AI-enabled technologies like speech recognition in school holds profound opportunity but also poses serious risk.
Join panelists as they discuss creating equitable access to mentors, career exploration, and educational pathways at 11:00am CT in Talk session, Multiple Future Paths: Expanding Youth Awareness.
At 11:30am CT, don't miss a special message from First Lady Dr. Jill Biden in featured session, Connected in Class: A Starting Point & Close Up, a discussion between the two organizations that teamed up to create ASP HOMEROOM, an educational civic engagement portal.
In Talk session, Moms Stand Up: The Rising Voice of the Black Mother, the panel will discuss how black mothers have navigated the ed reform movement to advocate for educational opportunities and equity for their children at 1:00pm CT.
The exciting SXSW EDU Online Launch Competition at 1:30pm CT celebrates emerging innovations in learning with a fast-paced pitch competition featuring early stage startups.
At 3:00pm CT, don't miss The Rather Prize: Innovative Ideas in TX Ed, awarding $10,000 to the the best idea in Texas education. Alongside Dr. Kevin Foster from The University of Texas at Austin who chairs the submission committee, speaking will be Dan Rather, Martin Rather, and the 2021 award winner.
Join Mentorship: Pathways to Increase Black Tech Talent to learn why we must make the change now and how HBCUs and companies are coming together to train, mentor, and recruit the next generation of Black tech talent at 3:00pm CT.
Cry Havoc Theater Company will be performing their newest devised piece, Once Upon a Moon, created from some of the lesser-known fairy tales by the Brothers Grimm and others at 6:00pm CT.
Join us tonight at 7:00pm CT for two film screenings at SXSW EDU Online: We Are The Radical Monarchs – The film documents the journey of the Radical Monarchs, a group of young girls of color at the front lines of social justice in Oakland – started by two Queer WOC – as they earn badges for completing units including being an LGBTQ ally & Disability Justice. Join the film's director, co-founders of the Radical Monarchs, and editor at Deadline for a post-screening live Q&A.
Bulletproof* – What does it mean to be safe in school in the United States? Safe from what, and from whom? Bulletproof poses and complicates these questions through a provocative exploration of fear and American violence. Join the film's director after the screening for a post-screening live Q&A.
Sign Up for SXSW EDU Online Updates
While you're attending SXSW EDU Online, sign up for the SXSW EDU email updates and stay up to speed by following us on Twitter, Facebook, LinkedIn and Instagram.
GIF photos clockwise starting top left: Mark Kassen, Cry Havoc Theater Company photo by Mara Richards Bim, Bulletproof photo by Emily Topper, Chris Evans photo by Jon Kopaloff Getty Images, Tony Wan, Joe Kiani, We Are the Radical Monarchs photo by Linda Knowlton, Kimberly Bryant photo by Davis Factor, First Lady Dr. Jill Biden photo by Cheriss May, Reshma Saujani, Mia Charity.
*This film is only available to view in the United States. RSVP is required and capacity is limited.