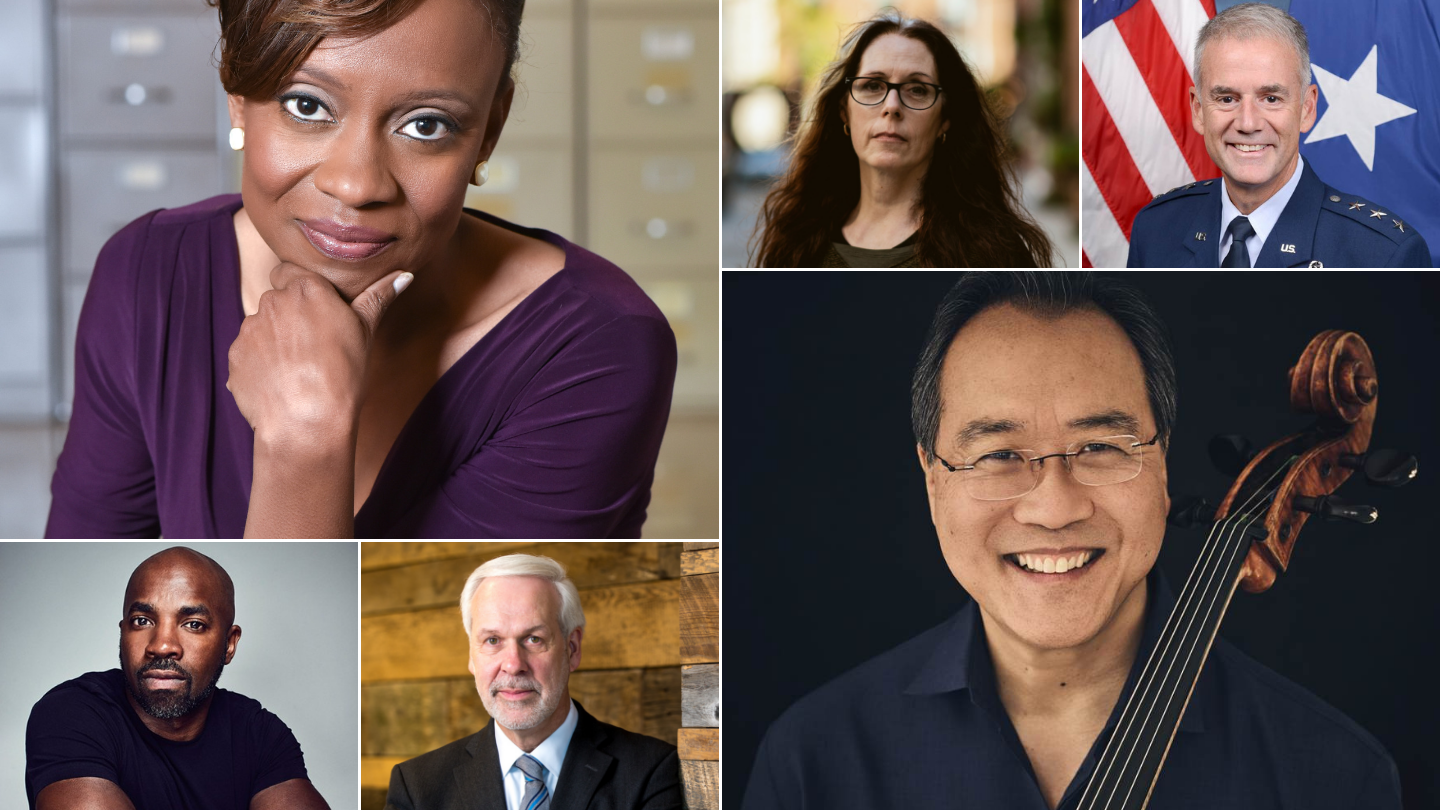 We are overjoyed to announce the first wave of speakers for SXSW EDU, March 9-12, 2020! The 10th annual Conference & Festival will include Professor of Psychology at Stanford and author of Biased: Uncovering the Hidden Prejudice that Shapes What We See, Think, Do, Jennifer Eberhardt, as well as world-renowned and award-winning cellist Yo-Yo Ma.
Additionally, we are pleased to announce several featured speakers. Co-authors of Choosing College, Michael B. Horn and Bob Moesta will discuss the higher education landscape and the challenges associated with choosing a college. A conversation with Arti Finn, Chris Wilson, Elizabeth Glazer, and Erica Green will dive into unlocking opportunity for incarcerated learners. Lieutenant General Jay Silveria, who is well known for his speech against racism, will speak to the work being done to build leaders who are prepared to tackle our toughest problems, and the power of diversity in that effort. The New York Times bestselling author, Laurie Halse Anderson, has helped countless survivors of sexual violence find the courage to speak up and will address the need to comfortably talk about sex and sexuality. Lastly, Paul LeBlanc and Dan Rosensweig will explore disruption in higher education in the digital age.
Read more about each of these speakers below and stay tuned for more SXSW EDU 2020 announcements.
Keynotes
Jennifer Eberhardt – Jennifer Eberhardt is a social psychologist at Stanford University and a leading authority on unconscious bias. Through interdisciplinary collaborations and a wide array of research methods—from laboratory studies to novel field experiments—Eberhardt has revealed the startling, and often dispiriting, extent to which racial imagery and judgments suffuse our culture and society, and in particular shape actions and outcomes within our criminal justice system, schools, and workplaces.
Update: due to an unforeseen scheduling conflict, Yo-Yo Ma will be unable to speak at SXSW EDU 2020.
Yo-Yo Ma – Cellist Yo-Yo Ma's career is a testament to his enduring belief in culture's power to generate trust and understanding. In August 2018, Yo-Yo began a new global journey, setting out to perform J. S. Bach's six suites for solo cello in 36 locations that encompass our cultural heritage, our current creativity, and the challenges of peace and understanding that will shape our future. Each concert is an example of culture's power to create moments of shared understanding, as well as an invitation to a larger conversation about how culture connects us.
Featured
Arti Finn – Arti Finn is the co-founder of American Prison Data Systems (APDS), a public benefits corporation working to promote free and ethical education options for incarcerated learners. She has dedicated her business development expertise to harnessing the power of technology to scale educational opportunities for incarcerated learners.
Bob Moesta – Co-Author of Choosing College, Bob Moesta, helps entrepreneurs and enterprise leaders recognize the importance of innovation and how to harness it effectively. Currently, he serves as president and co-founder of The ReWired Group, a Detroit, Michigan, business development consultancy and innovation incubator, he is also an adjunct lecturer at The Kellogg School of Management at Northwestern and an adjunct fellow at the Clayton Christensen Institute.
Chris Wilson – Author of The Master Plan: My Journey from Life in Prison to a Life of Purpose, Chris Wilson, grew up surrounded by poverty, drug addiction, and gun violence. At 17 he was charged and sentenced to life in prison. While imprisoned, he earned his high school diploma, graduated from all of the vocational shops, earned an Associate of Arts Degree in Sociology from Anne Arundel Community College, and taught himself to speak and write in several foreign languages.
Dan Rosensweig – In 2010, Dan Rosensweig joined Chegg with a vision to transform the popular textbook rental service into a leading provider of digital learning services for high school and college students. As Chairman and CEO of Chegg, he led the company to leverage technology, mobility, and connected networks. Chegg now offers a suite of high-quality, low-cost, personalized and on-demand educational resources that help students maximize the return on their investment in education.
Elizabeth Glazer – Elizabeth Glazer is The New York Director of the Mayor's Office of Criminal Justice. She serves as the senior criminal justice policy advisor to the Mayor. Ms. Glazer oversees citywide criminal justice policy and develops and implements strategies across city agencies and partners to enhance public safety, reduce unnecessary incarceration, and increase fairness.
Erica Green – The New York Times Correspondent, Erica Green, covers education and federal policy, with a focus on the Education Department and civil rights in the nation's schools. She has won more than one dozen local and national awards for her education coverage and was part of the Sun team named a 2016 Pulitzer Prize finalist for breaking news coverage of the death of Freddie Gray.
Lt Gen Jay Silveria – Lieutenant General Jay Silveria is the Superintendent of the United States Air Force Academy in Colorado Springs, Colorado. As Superintendent he serves as both a college president and military commander for the Academy, directing a four-year program of undergraduate education, military training, athletics, and character development.
Laurie Halse Anderson – Laurie Halse Anderson is a The New York Times bestselling author whose writing spans young readers, teens, and adults. Her new book, SHOUT, a memoir-in-verse about surviving sexual assault at the age of thirteen and a manifesta for the #MeToo era, has received widespread critical acclaim and is Laurie's eighth New York Times bestselling book.
Michael B. Horn – Michael Horn speaks and writes about the future of education and works with a portfolio of education organizations to improve the life of each and every student. He is the co-author of the book, Choosing College: How to Make Better Learning Decisions Throughout Your Life (2019), which strips away the noise around college to help students and parents understand why they are going to school and how to make better choices, as well as aids schools in design better experiences.
Paul LeBlanc – Dr. Paul J. LeBlanc is President of Southern New Hampshire University (SNHU) and a member of the Board of Directors at Chegg, Inc. Since 2003, under Paul's leadership, SNHU has grown from 2,800 students to over 135,000 learners and is the largest nonprofit provider of online higher education in the country.
Join Us at SXSW EDU 2020
Register now to hear from these speakers and more at SXSW EDU, March 9-12, 2020. Purchase your registration badge by Friday, September 27 to save $220 off the walk-up rate. SXSW EDU also offers group and student discounts.
Stay in the know with SXSW EDU by signing up for the SXSW EDU Event Update and follow us on Twitter, Facebook, and Instagram for daily updates.
Photo (t-b, l-r) Jennifer Eberheart (photo by Nana Kofi Nti), Laurie Halse Anderson (photo by Randy Fontanilla), Lt Gen Jay Silveria, Chris Wilson, Paul LeBlanc, and Yo-Yo Ma (photo by Jason Bell).