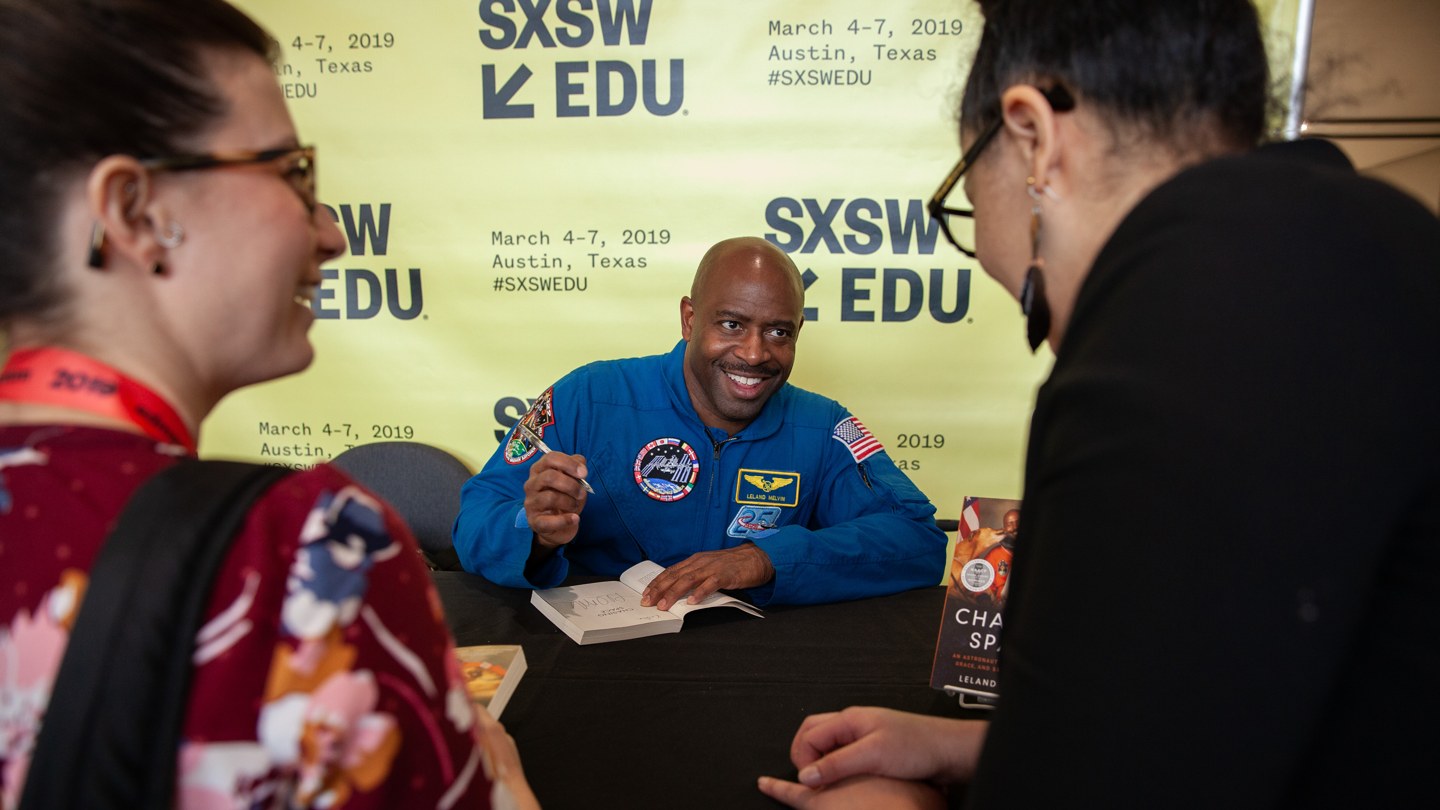 Leaders in learning and education come together each year in March at SXSW EDU. Throughout the event, attendees have the opportunity to meet with their favorite speakers that have authored books for signings. The bookstore has featured works by Leland Melvin, Maria Konnikova, David Books, and Marley Dias. Browse the list of best-selling books from SXSW EDU 2019 and make some room in your summer reading list for a few of these titles!
SXSW EDU 2019 Best-Sellers
Chasing Space: An Astronaut's Story of Grit, Grace, and Second Chances
by Leland Melvin
Former NASA astronaut and NFL wide receiver, Leland Melvin, shares his personal journey from the field to the stars in his memoir. Chasing Space An Astronauts Story of Grit Grace and Second Chances examines the intersecting roles of community, perseverance, and grace.
The Road to Character
by David Brooks
New York Times best-selling author David Brooks writes about the internal structure of some of the world's greatest thinkers and inspiring leaders.
Making & Tinkering with STEM: Solving Design Challenges With Young Children
by Susan Friedman
Susan Friedman offers practical, hands-on resources for children ages 3-8. With twenty-five engineering design challenges, suggestions for creating a makerspace, and more, the book makes teaching and learning STEM accessible.
Life, Animated: A Story of Sidekicks, Heroes, and Autism
by Ron Suskind
This is the real-life story of Owen Suskind, an autistic boy who couldn't speak for years but memorized dozens of Disney movies that he turned into a language. Pulitzer Prize-winning journalist Ron Suskind shares how the family became animated characters, communicating with Disney dialogue and song.
Neuroteach: Brain Science and the Future of Education
by Ian Kelleher / Glenn Whitman
Neuroteach: Brain Science and the Future of Education offers an understanding of the brain and how it receives, filters, consolidates, and applies learning for both the short and long term.
Marley Dias Gets It Done: And So Can You!
by Marley Dias
Marley Dias, the girl behind #1000blackgirlbooks campaign, speaks to kids about her passion for making our world a better place, and how to make their dreams come true in her book. Drawing from her experience she explores activism, social justice, volunteerism, equity and inclusion, and using social media for good.
The Confidence Game: Why We Fall for It . . . Every Time
by Maria Konnikova
The Confidence Game offers a compelling investigation into the minds, motives, and methods of con artists and the people who fall for their cons over and over again.
Disrupters: Success Strategies from Women Who Break the Mold
Patti Fletcher
This book is not about what women should do, it shows what different women in business have done to reach success as they define it. From board members to CEOs to freelancers, the business world is stacked against women because they follow the unspoken rules of business culture made long before women entered the workforce.
We Want To Do More Than Survive: Abolitionist Teaching and the Pursuit of Educational Freedom
Bettina Love
Educator Bettina Love draws on personal stories, research, and historical events to offer a vision of educational justice inspired by the rebellious spirit and methods of abolitionists.
Add these books to your summer reading list and dive in! Be sure to also sign up for the SXSW EDU event update for the latest news and information about SXSW EDU, an engaged community advancing teaching and learning.
Leland Melvin, Chasing Space An Astronauts Story of Grit Grace and Second Chances, book signing at SXSW EDU 2019. Photo by Debra Reyes.