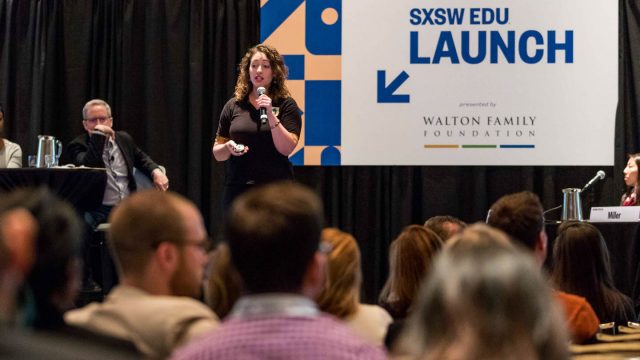 SXSW EDU celebrates emerging innovations in learning with the fast-paced Launch competition featuring early-stage startups. Applications are now open for the eighth annual competition taking place at SXSW EDU 2019. Entrepreneurs seeking feedback, investment, strategic partnerships, and exposure, are invited to apply.
Startups can apply online through Sunday, November 11 for the opportunity to compete in front of the panel of expert judges, and a live audience at SXSW EDU, March 2019.
Launch Eligibility Requirements
To be eligible to compete in the Launch 2019 competition, a company's product or service must:
Have launched no earlier than January 1, 2016.
Have not launched after June 4, 2019.
Be incorporated with a management team, and public-facing website.
Be able to convey a sustainable business model.
Be able to demonstrate user traction, engagement, and adoption metrics.
Not have raised over $5 million in funds from combined funding sources at time of application.
Participating in Launch offers a unique platform for startups to shine. Here are a few of the big reasons why you should throw your hat in the ring!
1. Visibility and Exposure
SXSW EDU attracts the attention of media, bloggers, and education influencers each March. Participating in the competition is a sure fire way to put your startup on the radar of these leaders and outlets to build a solid reputation for your company. Receiving coverage or even mentions for your startup can have a huge impact on your business.
2. Career-Enhancing Connections
We've all heard the saying, "It's not what you know, it's who you know." And in today's business landscape, this rings true. Networking connections have the power to take your startup far. It's challenging to quantify the power of connections but the right interaction can have a career-enhancing impact on your work.
3. Access to Funders and Influencers
Conferences are a great place to gain access to venture capital firms, angel investors, and corporate partners in a concentrated environment that would otherwise be challenging to access.
4. Grow as an Entrepreneur
Participating in a startup competition is a great way to spark inspiration and growth as an entrepreneur. The application process will challenge you to put your business concept on paper and the live event will help you refine and master your business pitching skills.
Check out the Launch competition page for more information including application instructions of browse Launch FAQ for a listing of frequently asked questions.
Launch 2018 competition photo by Steven Snow.