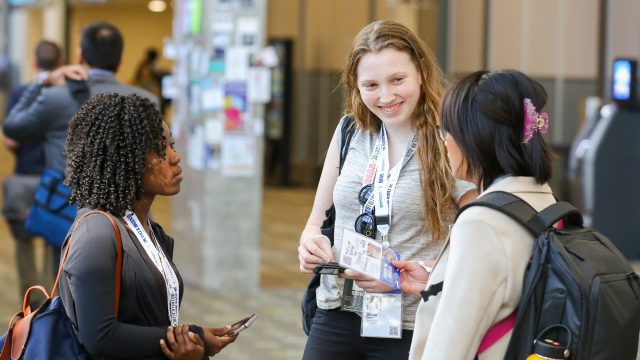 Conferences are great for learning, growth, networking, and more. It's a playground for the exchange of ideas and information between individuals in the same field of study. A place where anyone with interest in the subject matter can gather to connect, share knowledge, and inspire.
The thought of attending a conference may seem overwhelming or intimidating even, but attending at least one a year has its benefits.
Networking
Attending a conference is a great way to network. It's where human-to-human interaction occurs, making it an ideal setting for first impressions that can lead to lasting connections. Something you can't get from online. The exchanges you make at a conference can lead to new relationships and sometimes even to job opportunities.
Expand Knowledge
Sessions and workshops are some of many ways you can expand your knowledge in a subject matter, another rewarding reason to attend a conference. The exchange of discussion brings new ideas, perspectives and skills to the table. Participating in a session or workshop gives you an upper hand, whether it be in implementing what you learned in your lesson plan or coming up with a solution to a business problem.
Inspiration
Looking to be inspired? Well look no further! A conference is an epicenter of inspiration. You'll be surrounded by like-minded individuals and experts. Inspiration is abundant and flourishing in the conference atmosphere. The sharing of ideas, stories, and experiences are helpful for jump starting your own creative and innovative ideas that may otherwise not come to light if you don't attend at least one conference.
Gain Insight
Another advantageous reason for going to a conference is the amount of insight you can gain. For instance, hearing keynotes from industry leaders in the field with years of experience can give you insider knowledge. This information is undoubtedly helpful, whether you're just starting out or want to know how to get further ahead in your career.
Register for SXSW 2019
SXSW EDU 2019 is right around the corner, don't forget to register! Head over to the attend page for more information regarding registration, rates, and deadlines. If it's your first time visiting Austin, check out the housing and travel page to help make your hotel booking easier. We can't wait for you to join us March 4-7, 2019 to experience four days of learning, networking, and inspiration.
Photo by Diego Donamaria.